Are Professional Skin Care Products Really Better Than OTC?
|
By Erica Suppa, B.S., L.E.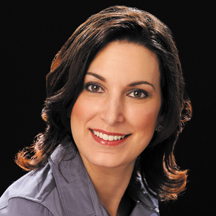 You get bombarded in department stores by attractive saleswomen, bright displays and awesome packaging as you walk through seeking skin care products. Why not take a look and hear the sales pitch? This 0.5 oz. jar of eye cream must work because it's $90, right? Is there truly a difference between professional skin care products and the alternative, over-the-counter (OTC) skin care products?
Billion-dollar cosmetic companies manufacture OTC products containing all the latest ingredients such as antioxidants and alpha hydroxy acids, but will not disclose the percentages of such ingredients. This is because: 1. The Food and Drug Administration (FDA) does not require OTC products to list product efficacy (i.e. percentages and/or pH) and 2. OTC products must be well tolerated for the average user. These products are designed to not cause irritation, even in the most sensitive of skin types.
Are the active ingredients in OTC products even effective (i.e. are they chirally correct)? Many companies manufacture OTC products with chirally incorrect ingredients because they are cheaper and easier to produce. Ingredients that are not chirally correct are one of the main reasons why certain skin care products do not deliver on the results that they claim.
Because OTC products are mass produced, thousands of a single cream can potentially sit in a warehouse for a year or more before it even reaches the retail shelf and eventually makes it into the hands of the consumer. For the most part, the skin care products you purchase over-the-counter are aged, neutralized, and heavily preserved. Would you want to put that cream on your face? What if the cream was on sale for an unbeatable $20? Remember that OTC products include those sold in brick-and-mortar stores, on the internet and on television. If anyone can purchase a product without a professional license, how do they know what they are getting or even how to use it?
This is where the professional esthetician plays an important role in helping to improve and/or clear up skin problems. Skin care specialists are knowledgeable about product ingredients and guide you to products that work with your skin type and particular skin problems. Salespeople generally don't have access to scientific data
on the product line they are selling nor do
they know how ingredients will affect the skin while someone is taking medication, is pregnant, has allergies or has a health condition. The health of your skin shouldn't be taken lightly. To ensure results, do your research before you invest in a skin care product and consult your licensed skin care specialist for more information.
Fresh Faced Skin Care is owned by Licensed Esthetician and Research Scientist, Erica Suppa. Erica holds a Bachelor of Science degree from the University of Delaware and has worked in the scientific and medical industries for over 13 years. She also works at the University of Pennsylvania as a cancer research specialist, assisting in the creation of ground-breaking cellular therapy cancer treatments. Let Erica's scientific knowledge of skin care ingredients and how they interact with your skin allow you to get the results you have been searching for.
Why spend money and not get results?
Testimonials:

It is my new favorite place. Thank you, Erica.
I will see you again soon for another appointment.
Erica is a wonderful person, whom I trust with my skin care needs. She is very passionate about her business and cares about her clients' skin care concerns. She takes the time to evaluate and recommend what she thinks is the path to take for my skin care regime.
Love Fresh Faced Skin Care. Proven treatments and products.
I loved the treatment I received. The environment was private and the treatment personal. Excellent experience overall.
Call 302-689-3223 for an appointment or visit
www.freshfacedskincare.com for more information.