Accessorize!
|

Jane Strobel and Janice Venema
By: Janice Venema
Entering our store you will be delighted with
the assortment of accessories that greet you.
Colors are dazzling and designs are fantastic.  Our eclectic, playful boutique offers a mix of classic, contemporary and vintage accessories.
Chic temptations to compliment any ensemble:
casual, career and any occasion are available at Lady's Image.  We have ensembles for lady's of all shapes and sizes that will be the foundation for our accessories.   Housed in 20 towers and 4 cases we make a statement in jewelry with a classic and a contemporary flair.
Blessings by Cheryl Richardson was launched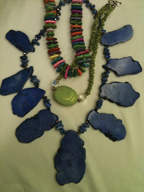 while fighting breast cancer and Lyme disease.
Her work reflects her gift for balancing color, shape and design.  Cheryl is a local artist working out of her Hockessin studio.
Our Fundraiser Thursday- June 9,  Friday-June 10 and Saturday-June 11
will donate 20% of each  Blessings sold to
Delaware Breast Cancer Coalition.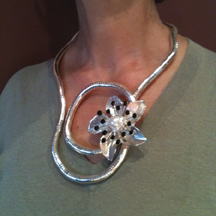 Amy Kahn Russell is made in the USA. Several pieces showcase a Russian technique of painting on onyx with a single strand of sable to create magnificent amulets/pins, necklaces, bracelets and earrings that become a focal point for any ensemble.
Elaine Waxman Designs of North Wilmington LOVES her work. You can see that LOVE in each unique piece. Natural elements have encouraged her to bead, bead, bead,  creating interesting designs for lasting enjoyment.
Enjoy the work of many other local designers such as Sorrelli, and Fahrenheight.
Seasonal Whispers designs can be seen on Sex in the City.
Tolani scarves – the Hollywood favorite in Delaware are chic and versatile. The savvy traveler knows a scarf can change up a look and allow packing to be light. Also,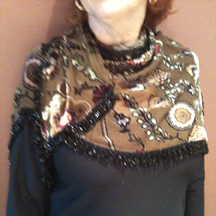 a MUST when the weather cools unexpectedly – wrap that scarf at your neck and feel the warmth while looking good.  You don't have to travel to enjoy the versatility of the scarf and the instant change they offer to any ensemble.
Ask about our Made in the USA Inshalla hand beaded scarves.
Time starved ladies dash in for a gift that will be a hit
– gift wrapping is free.
Our experienced staff m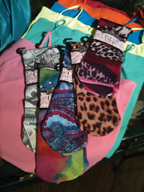 ake your visit fast and fun.  Must-have items are in abundance at Lady's Image.  The twist necklace with our NEW magnetic pins are a home run.
Bracelets and rings are so important – fabulous fakes are the bling without the big bucks. Belts have become a must-have item.  The Brooch Buckle makes Jeans Dazzle.
Trouser socks at $9.00 a pair are simply the best.  Great teacher gifts and much appreciated by the wearer – you or the gifted.
Do you know about switchflops?  Lindsey Phillips designed them as a high-school project – in college she took business courses and this year will earn in the millions.  Not bad for a 24 year old.  Come in and get a pair of her shoes and choose a few switches.  You will fall in love.  We at Lady's Image wear them daily.
Lady's Image  offers PERFECT accessories to be the best looking YOU!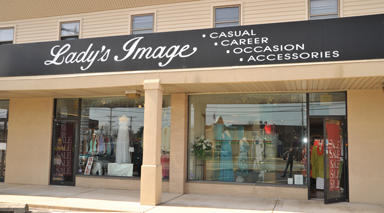 Come…get excited about the clothing and accessories at Lady's Image and discover why Lady's Image has been voted 14 years running as Best of Delaware by readers of Delaware Today Magazine.  Best of Delaware for Occasion Fashions. Best of Delaware for Business Attire, and Best of Delaware for Casual Clothing. We thank Delaware Today and their readers for this awesome recognition. Swing in and get to know us.

Our goal these 32 years is to exceed our customers' expectations in providing unique fashions, unusual accessories and the very best of service. Janice and Jane still love what they do. "Blue jeans to black-tie, we have a look for you to LOVE…," they say with smiles.
Come; experience Lady's Image for yourself…