A Little More Lift? A Flawless Silhouette? Great Cleavage? Shape Solutions From Bare Essentials
|

By  Debbie Esslinger, Owner
Different Looks demand different styles of bras.  Feel comfortable in your own skin and know that your imperfections are what make you, you.  Show them off and know that we are here to help.  We've got easy solutions to your fashion dilemmas.
If you're headed to a wedding (maybe you're the Bride!) or rubbing elbows with friends and family at a bar-b-que, we know you are going to need a special bra to wear underneath your outfit.  Whether it's a strapless bra, longline, or anything in between, we've got you covered from head to toe.  Party on the fly with no worries knowing Bare Essentials will have just the right undergarment for any occasion.  Look thinner and smoother in shapewear from Spanx, Wacoal, Cass or TC Fine.  Waist cinchers have made a comeback and can slim your middle down 1-2 inches.  Our bra consultants will help you decide what works and what doesn't.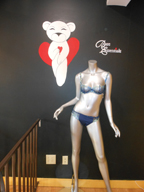 Shift your focus to the pool, beach or a fantastic voyage, all while looking amazing in a swimsuit and cover-up from our swim boutique.  This is no ordinary swim shop and the only one of its kind in this area.  Swimsuits are bra sized separates, tankinis, bikinis or one piece creations with underwire for support and comfort.  Bare Essentials specializes in swimwear sizes D-J cup.  These specialty suits are created by bra companies who know and understand how to fit the curvaceous body and so do we!  New this season, our floppy sun hats, shoes and straw totes are a perfect accent to warm weather wear.
Bare Essentials is alive with color in sizes and styles that accentuate your figure, and give you the "support" to find your inner confidence.  Our business is fitting you and we do it well!
Visit my new website at www.mybareshop.com
Bare Essentials     4009 Concord Pike, Wilmington
302 477 4888     Fittings: Mon-Sat 10-6, Wed 10-8