A Healthy Conversation With Your Doctor May Lead To A Fulfilling Sex Life
|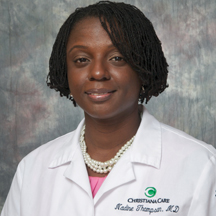 By Nadine Thompson, M.D.
Frequently, it's the problem women mention last in a routine checkup with their gynecologist. "By the way, doctor, I'm having a little issue with my sex life."

All too often, women don't view their sexuality as part of their overall health. The truth is that a fulfilling sex life contributes to our sense of wellbeing — and a lack of satisfaction can trickle down and build to an undercurrent of unhappiness in many relationships.

So, please make any concerns you have about sex one of the first topics you bring up with your doctor. Don't be shy about speaking up!

Sexual dysfunction for women is defined as persistent, recurrent problems with sexual response or desire. I'd take it a step further. If there is any aspect of your sex life that you are distressed about, it's a problem.

Start with an honest conversation with yourself. Here are a few questions to think about:
Is your sex drive zero or extremely low?
Is it difficult to stay aroused during intercourse, even when you do have a desire for sex?
Do you not experience orgasm?
Is it painful when you have sex?
If you answered "yes" to any of those questions and you want to make a positive change, schedule an appointment with your gynecologist.

While there isn't a female equivalent for Viagra — the medicine that was a game changer for men with sexual dysfunction — there are many approaches women can take to boost their level of satisfaction.

An important part of my job as a physician is help women understand that sexuality is connected to good health.

Your overall health can have a significant impact on your sex life. Diabetes, heart disease, neurological illnesses, liver failure, kidney disease and hormonal imbalances can all have a negative effect. Drinking too much alcohol and using drugs are bad for romance, too.

Certain medications, especially antidepressants, can trigger the "off" switch to your libido. Patients who are undergoing chemotherapy or radiation often lose their desire for sex, as well.

The solutions I offer are as unique as the women I see. That might start with a simple anatomy lesson so women can better understand how their bodies work. Sometimes I can help a woman talk her husband into helping more around the house – so she has the energy to have a romantic evening later.

Treatments are often simple too, such as suggesting a lubricant for a patient who has been through menopause and is experiencing vaginal dryness that makes sex uncomfortable. That also can be a problem for women who have just had babies.

If painful intercourse is caused by medical problems — including endometriosis, pelvic mass, ovarian cysts or scar tissue from surgery or a sexually transmitted disease – the solutions are varied.

In complex cases, patients can benefit greatly from an interdisciplinary approach. For example, a woman who has suffered sexual abuse at some point in her life might work with a therapist as well as her doctor.
If you have a concern, let's talk about it. You have a right to a fulfilling sex life!
Nadine Thompson, M.D., earned her medical training at the State University of New York Health Science Center and completed her residency at the Orlando Regional Medical Center.  She is a board certified gynecologist with a special expertise in sexual dysfunction.
For more information or to make an appointment,  call: 302-659-4520.

The Christiana Care Center for Women's Health provides a select group of women's health specialists focused on gynecologic issues that may become more complex for women beyond their child bearing years – conditions that can often only be addressed by special consultation, advanced treatment or surgery.  The Center for Women's Health is located at 3706 Kennett Pike in Greenville.