A Bra, Lingerie and Swim Boutique For The Modern Woman!!!
|
Shopping at BARE ESSENTIALS
is an unforgettable experience.
Located in The Talleyville Towne Shoppes along the trendy Concord Pike corridor, this 3,000 square foot bra boutique is spacious and bright, its three floors stocked with bras, shapewear, lingerie and swimwear. It's Pure Eye Candy!!!
Personal bra fitting is our specialty. We are known as a hometown store with the style and feel of the big city! Because we are dedicated to personal service, we are on everyone's A-List. Each customer is treated with honesty and respect. Our consultants are able to accommodate the most difficult size issues. With over 5,000 bras to choose from, our selection is unbeatable.
There are no smoke and mirrors here.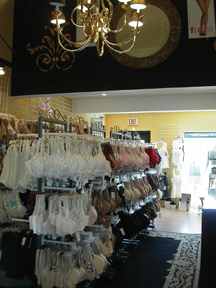 Many items appear to look great on a mannequin but don't pass the test of the real world. The merchandise in this boutique is for real women from all walks of life. From business executives to a blushing bride and everything in between, Bare Essentials exemplifies what an intimate apparel shop should be. Soft music and fragrant candles greet customers as they enter. There are rooms with lingerie, rooms with bras, panties, shapewear and plenty of light to show off the colors and selection. A beautiful circular staircase will lead you to our unique swim shop downstairs. This year around swim boutique is the only independent retailer to carry bra fitting swimwear in cup sizes D to K.
The one thing women never forget is the caring and personal assistance provided here.
We present a welcoming atmosphere and feeling of confidence and happiness.
Isn't that what we all are looking for?