3T MRI Is 100% Sensitive For Finding Breast Cancer
|
It's our 4th anniversary!!!  Anyone needing an MRI should make note that 3T MRI is 100% sensitive for finding breast cancer and generally better for all other MRI studies.  You might wonder why hasn't your doctor mentioned this.
Most doctors in this area have never called our center to ask about the benefits of 3T MRI versus other MRI scanners.  A 3T MRI scanner shows details that no other scanner can see.  Just today, we had a case where we were able to see old healed tendonitis.  This is something that could still be painful but would not be visible on any other scanner.  On a different patient, we found breast cancer at a very early stage that was missed by several mammograms.  In the cervical and lumbar spine, we scan with thinner sections and more detail than other scanner in Delaware—2.5mm contiguous images.  We find herniations missed by other scanners.  Most people do "3mm skip 1mm" the scanner "skips" 25% of the anatomy scanned.  They do this because less powerful MRI scanners take too long.  Stronger means both sharper and faster!
We pride ourselves on being patient-oriented.
Because of this, we first installed the best CLOSED MRI in Delaware and followed that with the very best OPEN MRI as well.  The 1.5T OPEN MRI scanner opened two years later and is called BEST OPEN MRI.  There is no other facility where the best CLOSED and BEST OPEN MRI are side by side.   Patients should know that MRI's are like antibiotics.  Your doctor writes the prescription, but you are allowed to go to the pharmacy of your choice.  If your doctor does not recommend the superior diagnostic capability of 3T MRI, you are free to take your prescription for an MRI and go where you will get the best diagnostic images.  In these days of precertification you might have to call your insurance company to change the location of the study on your precert but you can certainly come to us if you have Blue Cross, Blue Shield or Medicare.  We accept all forms of BC/BS.  We also accept Amerihealth, Coventry and many other plans—please call us.  But we also have a very generous out of pocket discount if you have no insurance.  We make the most advanced MRI in Delaware affordable for all.  We also accept attorneys' letters of protection and do our best to help you if you have an auto accident claim or workmans compensation accident.  Unlike other imaging facilities, word of mouth is our number one source of patients.  Once patients come here they can see what advanced MRI is truly like.
Patients should know that 3T Breast MRI is best but we also have the best OPEN MRI at 1.5T.
We did two patients that could not fit in to any of the MRI's at two of the top hospitals in the area.  What is quite remarkable is that both had mammograms and sonograms that were difficult to interpret.  Neither knew if they had cancer.  Neither fit in any other facility's MRI.  We were also able to shorten the test to a mere 12 minutes with the safest MR dye injection in the world.  We are the only facility that spends extra money on contrast to offer the safest MRI contrast in the world.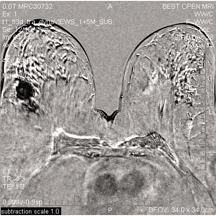 Missed by mammogram
Both studies were positive for breast cancer (quite large, in fact) and both could have been found earlier if their doctors had ordered the test earlier.  In both cases, MRI's were delayed because the patient did not fit into another scanner.  Most doctors in Delaware are simply unaware of the benefits of the Siemens 18 channel Espree.  This is the most advanced 1.5T scanner in Delaware.  No other scanner has 18 channels and the widest MRI bore and the shortest bore in the world.  This means that whatever body part being scanned is 1.5 feet away from the outside of the magnet.  This super short bore makes the Espree the least claustrophobic MRI scanner in the world.  Just twelve (12) minutes saved both patients lives.
SPEED.
3T MRI is the highest magnet strength for MRI in clinical practice.  More detailed than MRI done at lower field strengths and up to 4 times faster.
SAFETY. The MR contrasts we use have never caused a single case of nephrogenic systemic sclerosis.  This is not true of all MR contrast.  We use Prohance at 3T and Multihance at 1.5T.  Ask your MRI provider which contrast they use.  ASK your doctor.  Consult our website www.safecontrast.com  We believe using the safest contrast for MRI is the best solution for all of our patients.  Safe contrast costs just a little more.  You are worth it.
COMFORT.
Our 70 cm (30 inch) OPEN BORE scanner is more open than a traditional "open" MRI with a 0.3T scanner—which is only 19 inches wide.  The so-called standup MRI scanner with a 0.6T magnet is only 18 inches wide.  The 30 inches wide OPEN MRI that we have is (the m ost spacious in the world) has a weight limit of 550 pounds.  It is the best MRI for anyone.  We have many patients who are claustrophobic on other MRI scanners who can be scanned without sedation at our facility.  You have not had a comfortable MRI scan till you try our Siemens 18 channel Espree.  When you have more room inside you are likely to hold still and get a better study.  We also have a special sequence called BLADE which freeze motion.  So if you are moving a lot we use BLADE for your scan and get clear pictures.  Only the most advanced scanners have BLADE.
ADVANCED SOFTWARE
DWI, SWI and Native are just three of the advanced technique/softwares available at our facility.  DWI helps us to detect and characterize cancers in the body.  This extra sequence makes cancers stand out like light bulbs.  Very useful in finding liver, pancreas and kidney cancers.  This advanced technique spares patients from unnecessary radiation as MRI does not use ionizing radiation.  SWI is a technique which finds microscopic blood in the brain.  We use this when you have had brain trauma and have seizures, memory loss or unexplained headaches.  Without this software, other scanners would simply not see the blood.  Such bleeding in your brain could be associated with MS, head trauma and traumatic brain injury.  REVEALtechnique which shows us your arteries without any dye injection.  It works very well in the legs and abdomen and pelvis.  It shows us the arteries just by using the pulsations of your arteries.  It is a very advanced technique and it is quite possible your doctor might be unaware of its existence.  However, you can avoid an injection of dye, by asking your doctor to request REVEAL.  This software technique is used at University of Penn or at NYU and can replace in jected MRA studies of the peripheral arteries.
My point?  If you need an MRI, have it done on the very best machine available.
The first time.  Having an MRI done on a less powerful, inferior, machine—which can miss things—will result in your needing a second MRI on a better, more powerful, machine to confirm the results. If your test is positive on the poor test you may repeat it at 3T-MRI because you can see more.  If your test is negative, you will need to repeat it to make sure there is nothing there.  So, why waste your time and money?  Why not be sure from the beginning?  3T-MRI is better than CT (which exposes you to radiation) and both CT and old-fashioned, weak OPEN MRI (which has terrible resolution) give inconclusive results.  If you need imaging, get the very best available.  Be certain, use 3T-MRI.   If you need an OPEN MRI use our BEST OPEN MRI—which has the quality of the hospital's best 1.5T scanner and the comfort of the world's best OPEN MRI.
Dr. Philip Chao graduated Phi Beta Kappa from Yale University and was Scholar of the House. He continued his studies at the University of Rochester School of Medicine and Dentistry, receiving his medical degree in 1983. After a transitional internship year at the Mary Imogene Bassett Hospital in Cooperstown NY, Dr. Chao did his residency in Radiology at Brooklyn's SUNY Health Science Center (1984-1987), where he became Chief Resident. He stayed on to complete a fellowship in Neuroradiology (1987-1988). Dr. Chao has been interested in MRI technology since its very beginning – the first MRI scan took place in 1981 while he was pursuing his medical studies. The University of Pennsylvania, where Dr. Chao was both a Body MRI Fellow (1988-1990) and a Neuroradiology Fellow (1989-1990), was at the heart of the development of this technology and Dr. Chao was able to work with pioneers in MRI on the first GE Signa 1.5T (tesla) scanner. His advanced research and specializations complete, Dr. Chao left the University of Pennsylvania for a position as Director of MRI in Wilmington DE – a position he held for 14 years. Dr. Chao eventually left that position to create the best MRI center in Delaware, using the very latest technology: 3T MRI. While 3T (tesla) scanners have been used for scanning research patients since 2002, these advanced, more powerful MRI scanners only became available for clinical use in 2004. Dr. Chao worked hard to bring 3T technology to Delaware and in February 2007, MRI Consultants, LLC began operating the first 3T scanner in the State. 3T is the newest horizon for MRI.