Should I Stay or Should I Go?
|
It is a crossroad that our dental and
medical clients have faced for years…
Do we stay in our existing location
or do we move to a new space?
Do we renovate our existing space
or do we build a new office?
Whether they choose to renovate the existing site or to build in a new location, discerning dental and medical practices need to leverage the power of impact full design.
The benefits of a well-designed dental/medical office are many:
• it enriches the patient/doctor experience
• it enhances the workplace
• it improves staff efficiency and morale
• it attracts and retains desired clientele
• it assists with brand differentiation, distinguishing your practice from competitors
Should I Stay or Should I Go?
Increasingly, in the past 10 years, the ambience of a dental/ medical office has become key to patient retention and their willingness to return for regular visits. Liken this to your own experience at high-end restaurants and resorts – if it leaves a positive and lasting impression, you will likely return again and again.
Of course once the decision is made "to stay or to go" the next step is to retain the services of a highly experienced and reliable team of professionals who can design, develop and implement your project in a timely manner so you can back to work–doing what you do best!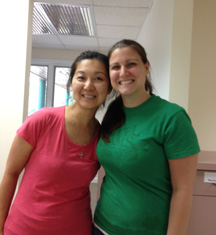 Have you heard about our
"2nd Opinion"
Plan Review Service?
A great way to maximize your
design budget!
For those businesses who are planning a new office or renovation of their existing space, our "2nd Opinion" Plan Review Service offers an analysis of your existing plans—providing valuable insight into your proposed design, before your project starts.
Upon review of your plans, we will submit a report identifying areas of the proposed plan that might be improved upon, areas of concern, and suggestions for improvement. A followup phone conference is included.
Let us help you prevent costly errors when you plan your new office. Please contact us for details.
All About Smiles: Another example of an "Extreme Makeover" and Turnkey Design by Design Services, Ltd.
With Design Services, Ltd.'s assistance, their project
was completed in 9 days with no disruption to
Dr. Lewis Yu, DMD and Dr. Grace Liu, DDS,
wanted to update their office and chose to renovate their existing space instead of moving or building a new site
their practice.
Rita Wilkins is the president and principal designer and project manager of Design Services, Ltd. With over 38 years experience, her approach to design is both aesthetic and business-like. She is a highly effective "hands-on" designer with extensive knowledge and expertise in residential, dental, medical, and commercial interiors. A graduate of University of Rhode Island, Rita attended Rhode Island School of Design and the University of North Carolina. She has been published in a variety of national publications and has received numerous design awards.
Design Services Ltd
1403 Silverside Professional Park
Wilmington, DE 19810
302-475-5663
www.dsltdonline.com