Create • Renew • Energize
|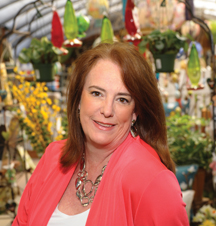 By Susan C. Sutton Owner, Designer
"To exceed customer expectations by providing the highest quality customer service while creating designs that renew and energize your environment."
If you were raised in the 60's or 70's I'm sure you heard your mother say this, "Let me put my face on." Or, "I need some lipstick for a little color." Then she'd explain, "When you look good you feel good!" What does this have to do with window treatments? Everything! When I see a room decorated without window treatments, it looks incomplete. It's like being all dressed up to go out and you don't have your makeup on! You wouldn't do that to yourself, why do you do it to your home? If eyes are the windows to the soul, then surely the windows of a house are a gateway to the "soul"
of the home. The way that windows are decorated is one of the most important decorating decisions facing a homeowner.
Window treatments are more than just a decorating decision. There are also functional considerations. Do you need to filter or block light, or provide privacy from street views? Before deciding on a look for your windows, homeowners must first analyze their needs. How do you decide between drapes, blinds, shades, shutters or any combination of these? Once the windows needs are determined, the creative process begins.
What look do you want to achieve?
This could be a subtle understated design so that you feature a gorgeous view. Perhaps the windows are the strongest style statement in the room, and give it that "pop" you were looking for. When both practical and decorative issues are addressed, window treatments become one of the most effective design elements in a home. Just as you feel better when your makeup is done, your home looks finished when its windows are done. Feeling a bit overwhelmed, well don't! It's easy to navigate the world of window treatments with insights from a professional decorator. With some thought about the look you want, combined with the design savvy of a window treatment expert, windows like you see in these pictures are easily obtainable.
If your dream windows are a little out of reach right now budget-wise, don't fret. Design in stages. Designing windows is an evolving process that doesn't have to be finished all at once. When you move into a home, privacy and light control are most important, so focus on blinds and shades that will be the foundation for your window treatment masterpieces later. Then, when time and budget allow, layer luxurious sheers and draperies or add details like cornices, valances, pillows, or custom bedding.
Any professional decorator should listen to your needs and not push you into projects you are not comfortable with or can't afford yet. Many times I have designed an overall plan that may take several years to complete and incorporated ready made treatments to meet a client's budget.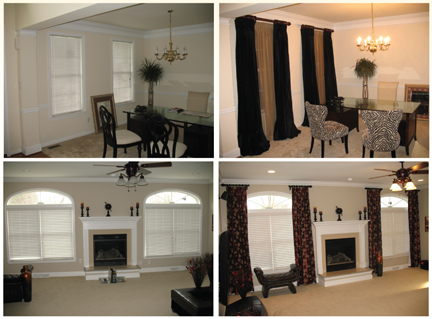 So ladies, lets "Create" and put your homes face on. It will make your home feel "renewed" and "energized." Plus, it will make your Mom happy too!
Testimonials:
• Susan is wonderful to work with! She listens to our wants and needs. She gets just as excited as you do about making your vision come true. You will not be disappointed! Susan makes it happen! Thank you, Susan for all your hard work. Most of all, "Thank You" for caring about your clients! I look forward to working with you again in the future. ~ Jackie Figart, Felton, DE
• I truly thank Susan for transforming my home into an elegant and cozy living space. She has made drapes and top treatments for bedrooms, family room, breakfast nook, study and formal living and dining areas. She brings a wide variety of choices that fits every taste when it comes to window treatments. She also has a great eye for furniture placement. She is very professional and efficient in her work, and very pleasant and patient with clients. I have no hesitation in recommending her for any interior decorating needs. I am looking forward to seeing her again for my very own master bedroom project. ~ G T, Hockessin, DE
• Susan has done a beautiful job in my entire house. We are currently on our 7th room and as always I can hardly wait to see it completed. I have always appreciated her gentle candor when it comes to guiding my vision into reality. Since we are three years new to the area, I have often called her for recommendations when looking for a contractor or handyman. Everyone she refers has always treated us with the same professional manner that she does. I would whole heartedly recommend Susan for any of your decorating needs. ~ Jean G, Dover, DE