Battle Of The Bulge – SmartLipo® Vs. CoolSculpting®
|
By Nadiv Shapira, MD, Medical Director, First State Vein & Laser Med-Spa
According to RealSelf.com, a trusted, independent online resource, 86% of those that had SmartLipo said that it was worth it! Compared to only 69% of those that had CoolSculpting said that it was worth it.
Both SmartLipo and CoolSculpting remove fat permanently. The results are long lasting, as long as you maintain a healthy lifestyle. However, these procedures differ in many other aspects. 
If you are considering a fat removal procedure, weigh the pros and cons of each, so you can decide which one is best for you.
Smartlipo Triplex®
This procedure is the newest laser-based liposuction available. It is a minimally invasive procedure in which a very small laser fiber is inserted under the skin. With energy delivered through this laser fiber, the fat is liquefied and the skin is tightened. Towards the end of the procedure, the fat is removed. 
Minimally invasive procedure
Practically pain-free due to the use of a localized awake anesthesia
Optimal results are achieved after a single procedure
Fat removal is immediate and permanent
No limit to the amount of fat that can be removed
SmartLipo Triplex tightens the skin AND removes the fat
Minimal downtime; from one to four days maximum
An in-office procedure; you walk in and walk out a few hours later
Many body areas can be contoured, including the following: abdomen, knees, waists, flanks, arms, back, thighs and bra handles
CoolSculpting® 
This procedure destroys fat cells by freezing them. CoolSculpting removes about 20% -25% of the fat cells, so multiple treatments on multiple areas are usually needed. Each area is measured by the size of one hand and it is priced this way, as well.
Non-invasive procedure
Treatment may be slightly painful and much more painful for some people
Temporary and long-lasting bruising, swelling, cramping, numbness, and pain may last for a few weeks to a few months
Results are less predictable than SmartLipo
It takes a few months to see the outcome
Optimal results may require 2-3 treatments in each area
CoolSculpting does not tighten the skin
CoolSculpting does not enable body sculpting
And the Winner is . . .  Smartlipo Triplex!!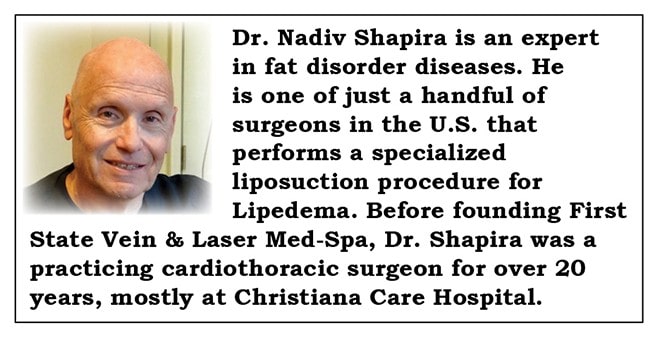 *****"I had my first surgery today. My legs feel so much lighter! Dr. Shapira and his staff are so loving and genuinely caring. I am so thankful I chose Dr. Shapira to do my surgery!" ~ Holly H. 
***** "I've been seeing Dr. Shapira for years for minor procedures and was always curious about Smartlipo. After he explained the procedure to me I decided to have it done on my inner and outer thighs. I couldn't be happier with the results! My thighs had been a frustration for me all my life and now they are slimmer and help me maintain my athletic build."  ~ Andrea R.
***** "Dr. Shapira is very skilled and knowledgeable. He also took the time to explain the procedure and made me feel at ease. From the schedulers to medical staff, everyone was professional and kind. I'm definitely coming back to First State Vein and Laser Med-Spa, as my experience has been excellent." ~ Ashley S.
***** "After going through two highly invasive liposuction procedures, I finally found a better option. Smartlipo performed by Dr. Shapira at First State Vein & Laser is the way to go. No down-time and the recovery was quick and easy. The results are amazing!" ~ Chris W.