Have You Tried Painting And Wine . . . To Fundraise?
|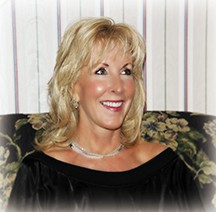 Owner/Operator, Laura Ashby
One of the most popular leisure activities today is the Paint and Sip event. Friends, family or co-workers gather (either at home, church, a fire hall or a favorite restaurant) and are guided through the process of painting on canvas with the help of a local artist . . . while they're eating and drinking! Painting Parties, LLCs is a mobile Paint and Sip company that brings "Art for Entertainment" to customers with all levels of artistic experience throughout Delaware and parts of PA and MD.
How much experience is needed? What if I have zero talent?
No experience is necessary! Approximately 80% of our customers have not held a paint brush since 3rd grade! As often as we hear "I can't draw a straight line" we also see customers shocked at the quality of their first painting. Everyone improves with practice, but first time painters are highly successful! It's been said that happiness comes from learning and performance. These are not always available during the same activity . . . but painting alongside a friend affords both.
What types of events are offered?
Party options include public and private events, (we partner with Caffe Gelato in Newark, DE quarterly for dinner and painting), corporate team building or fundraising for personal and public charities. hospitals, dog rescues and more.
A day focused on art is a day not focused on problems of any kind. Events are staffed so that every guest receives one-on-one help with their painting if requested. Our goal is to have everyone go home happy and satisfied . . . even if it's their first time painting. It's a stress reducer, brings people together for a fun activity and can raise funds for worthy causes!
Being able to introduce guests to art and watch them discover what they can accomplish in two hours is gratifying and continues to motivate the team. However, giving back through fundraising events is the icing on the cake! With supplies that can accommodate 150 guests, Painting Parties is in a unique position for an independent mobile art studio to make a significant contribution to fundraising goals.
How much can I expect to raise? How much work is involved?
Painting Parties reduces its base rate for fundraisers and anything tacked on by the event organizer goes directly to the cause. A full event can raise up to $3,000 in a single night!
No running around asking for raffle or silent auction donations. No coordination of volunteers. No upfront costs! As a host all you do is inform your target community and then show up, relax, have fun and paint! Everything else is done for you . . . set up, clean up, all the supplies and instruction. Painting Parties even supports your marketing through website and social media ads and a newsletter sent to nearly 1500 painting customers.
When can a party be scheduled?
Painting Parties hosts events seven days a week and can start as early as 12 pm or as late as 7 pm. Events typically include two hours of instruction, but we never rush guests and leave plenty of time for food, drink, socializing, and picture taking. Choose a painting from our online gallery or request a custom painting for a small extra charge. The venue must supply tables, chairs and a water source.
Who can participate?
Children as young as eight are welcome, and anyone older! Alcohol is an option for adults 21 and over at many events, but it's not an adult-only activity. Bring the kids! Bring the husband!
If you have a cause that is important to you or know someone or something that could use some financial help, you may want to discover your inner artist and make a difference at the same time!
Testimonial:
A Painting Parties, LLC event is the perfect fundraiser for all types of causes and for all ages! My son needed to raise money for his Eagle Scout Service Project. I immediately suggested this company after having attended a Painting Parties event months earlier. EVERYONE had a blast at both events! Participants ranged in age from 6 yrs to over 75 and fun was had by all! We didn't realize we had such 'hidden' artistic talent! Artist Jarred Fisher lead the instruction's basic mechanics but most importantly encouraged us to add our own creatively to our work of art.  The owner and artist were very professional and helpful. My son and I highly recommend this company and have already hosted a second successful troop fundraiser.
I look forward to many more opportunities to create masterpieces while having fun and bonding with others! ~  Heidi Heath-McEvoy