'Tis The Season For Safe Driving
|
The next few months can bring with them some of the most challenging driving conditions in Delaware. Whether you are traveling locally or planning a trip to visit friends or family out of state this holiday season, it's important to take some extra precautions when driving during the holiday season as well as into the winter months. To best avoid unpleasant situations, follow these safety suggestions:
Perform routine maintenance
One of the easiest ways to avoid car mishaps is to drive a safe vehicle. Check and rotate your tires, get a tune-up and have your oil changed regularly, at least every six months. Keeping up with these tasks ensures that your vehicle will be in top driving condition for Delaware's often-treacherous winter weather.
Prepare for inclement weather
Due to the unpredictability of the East Coast weather conditions, it's always a good idea to keep an emergency kit in your vehicle. Emergency kits include items that can help signal others in times of distress, make minor repairs, or help keep you protected from excessive temperatures while stalled. These kits can be purchased for as little as $30.00 or you can make your own. Some items that you might want to include are: blankets, water, road flares and tools. For more ideas on what to include in your vehicle emergency kit, speak to your auto insurance agent or visit www.redcross.org.
Drive defensively
Just as the old adage goes, sometimes the best offense is a good defense. When driving, be on the lookout for erratic drivers, slippery roads, snowdrifts and other unusual conditions. Never drive at speeds that would prevent you from taking necessary corrective actions, particularly in the evening when hazards are more difficult to see.
A little extra vigilance and a lot of common sense go far in keeping everyone safe during the holiday season and throughout the winter. If we all take these simple protective measures, we can significantly reduce the number of serious accidents that occur on our state's roads and highways. Sadly, every day in our law practice, we see victims seriously injured in automobile accidents due to another person's negligence or reckless driving. Be sure to follow these guidelines to protect yourself and others during one of the most wonderful times of the year.
WHAT TO DO IF INVOLVED IN A MOTOR VEHICLE COLLISION
Stop your Vehicle
Never drive away from the scene of a collision, even if it's a minor collision. The vehicles should remain where they are unless they interfere with traffic. Turn your hazard lights on, set out cones or other warning devices if you have them;
Call 911 or the Police
Even if there are no serious injuries, call to report the collision. An officer will be sent to file necessary reports and exchange information, and will call for medical personnel if needed for injuries;
Take Photos
Use your camera or phone to photograph the collision scene to document damage to the vehicles, and depict how the collision took place;
Retrieve Relevant Information
Record the names and contact information of the other drivers or witnesses, license plate numbers, the make, model and colors of other vehicles, insurance information and the exact location of the incident;
File a Collision Report with the Police
In some circumstances the police will not come to the scene of a collision. Should this happen, you should still contact the police to report the collision. A police report may help you make a claim with the insurance companies;
Contact your Insurance Company
Report the collision to your insurance company even if the collision was not your fault;
Do not give a Recorded Statement over the Telephone
Do not give a recorded statement to the other driver's insurance adjuster without an attorney present;
Seek Medical Attention
Often injuries are not readily apparent in the hours, or even days, following a collision. Unless you are absolutely sure you were not injured, you should be examined by your family doctor or emergency medical professionals;
Keep a File
Keep a file with all of the relevant information regarding the collision in one location for easy reference; and
Know your Automobile Insurance Policy
The insurance process will be much easier if you know and understand your policy benefits and coverages before a collision. Never wait until after an incident to learn this information. For example, do you know if you have a deductible, rental car coverage or enough wage loss coverage?
If you or a loved one suffers the unfortunate event of a motor vehicle collision or work related collision, the Personal Injury Group Attorneys at Morris James LLP will guide you through the process of obtaining the maximum compensation for your injuries to which you are entitled under the law. With six locations throughout the State of Delaware, we are available to serve you.
Visit our website for more information depersonalinjury.com
Download our phone app, available for iPhone and Android users, that provides access to the tools and information you will need in the event of an accident. The app features a Live Chat component, allowing you immediate contact with a live person 24 hours a day, 7 days a week. Locate our app by searching "Morris James" in iTunes or Google Play.

Susan D'Alonzo Ament is a partner with Morris James LLP and has practiced for 33 years representing personal injury victims. Over the years, Mrs. Ament has found that some women don't understand the crucial need to have adequate automobile insurance coverage in the event of a serious accident. Susan Ament educates women on these needs every day in her practice and in seminars that she presents throughout the year.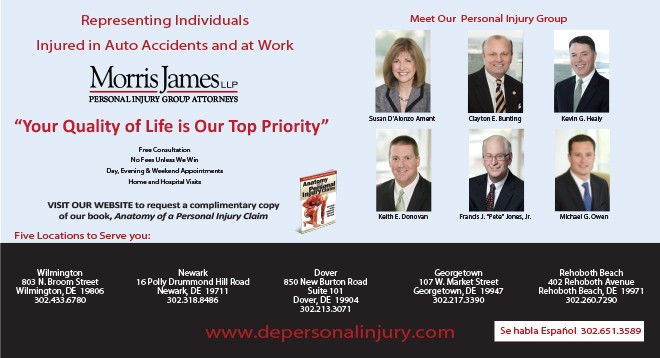 Wilmington   |   302.433.6780   |   803 N. Broom Street   |   Wilmington, DE  19806
Newark   |    302.318.8486 16    |   Polly Drummond Hill Road    |   Newark, DE  19711
Dover    |   302.213.3071 850    |   New Burton Road   |    Dover, DE  19904
Georgetown   |     302.217.3390   |     107 W. Market Street     |    Georgetown, DE  19947
Rehoboth Beach    |     302.260.7290   |      402 Rehoboth Avenue    |     Rehoboth Beach, DE  19971