The Weight Is Over: To Sleeve Or Not To Sleeve?
|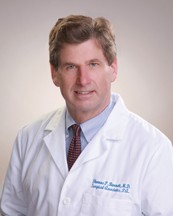 By Thomas P. Barnett, M.D., F.A.C.S. 
Weight loss surgery has evolved over the last 30 years. Laparoscopic Sleeve Gastrectomy ("Sleeve surgery") or taking out a portion of the stomach (see diagram 1) has emerged as the most common weight loss procedure in America over the last couple of years. It is estimated that in 2017, 70-80% of the weight loss surgeries done in the US will be the sleeve gastrectomy. This surgery is done through a series of incisions, most of which are the diameter of a dime.
The Sleeve surgery basically converts the stomach from a football size to a banana size. The decreased size of the stomach causes a restriction feeling to the patient when they eat and therefore they will eat less. In addition, the surgery removes a part of the stomach that produces a hormone called ghrelin, which is secreted by the oxyntic cells of the fundus in response to fasting. Ghrelin stimulates appetite. The Sleeve decreases the amount of ghrelin produced and therefore patients are able to better control their hunger.
Patients who have weight loss surgery have significant positive metabolic effects as well. Type 2 diabetes, high blood pressure and sleep apnea improve and therefore decrease obesity related morbidity and mortality. Many patients will be able to decrease or completely get off medications for high blood pressure and diabetes. Back and knee pain also improve with weight loss.
In a recent study from the Netherlands on 1000 patients undergoing sleeve surgery found on average an excess weight loss of 86.6% in the first postoperative year, 84.2% after two years, and 84.5% after three years. Pre-existent comorbidities appear to improve or even resolve after sleeve surgery. Resolution of type 2 diabetes occurs in 60-96% of the patients.
Dr. Sandra Costa is not only a family physician, but a sleeve surgery patient of Dr. Barnett's herself.   She has lost 108 pounds since starting her "sleeve journey." She had her surgery in November 2015 at Milford Memorial Hospital. "I consider that day my re-birthday. I was born obese at almost 12 pounds and put on weight every year until my sleeve journey began. I feel much better and more energetic."
Francis Fooks, another patient of Dr. Barnett's, has gone from 318 to 183 pounds 10 months after her  Sleeve surgery. "I was able to get off all my medications and get rid of my sleep apnea machine. This surgery has given me my life back! Dr. Barnett, Nicole Fisher, PA-C, the  team at Surgical Associates, and Milford Hospital have been extremely supportive throughout my weight loss journey."
There are risks with all weight loss surgical procedures. These include, but are not limited to bleeding, infection, obstruction, leaks, and the need for reoperation. Death has occurred in rare cases. Fortunately, with the sleeve gastrectomy, safety profiles have been proven to be high with few serious complications. Sleeve surgery causes less nutritional deficiencies post-operatively compared to the gastric bypass. Complications after Sleeve surgery in the literature vary from 2.9 to 9.5% which appear to be lower than the complication rate after gastric bypass, varying between 4.6 and 20.5% in the literature.
About Dr. Barnett
Dr. Barnett graduated from Princeton University in 1983 and obtained his medical degree from George Washington University in 1987. He completed his surgical training at Thomas Jefferson University affiliate Lankenau Hospital in Philadelphia in 1992. He served in the U.S. Air Force at Dover Air Force Base (DAFB) from 1992-1996 where he started the Laparoscopic/Minimally Invasive & Ambulatory Surgery programs. Dr. Barnett was Chief of Surgery at DAFB Hospital in 1995 and 1996. He has continued to practice surgery in Dover, Delaware ever since being honorably discharged and he founded his private practice, Surgical Associates, P.A., in 1999. Dr. Barnett is Board Certified in Surgery and is a Fellow of the American College of Surgeons. He is also a member of the American Society for Metabolic Bariatric Surgery (ASMBS) and the Medical Society of Delaware. Dr. Barnett has special interests in weight loss surgery. He currently serves as the medical director of bariatric surgery at Bayhealth-Milford Memorial Hospital and the Delaware Surgery Center in Dover.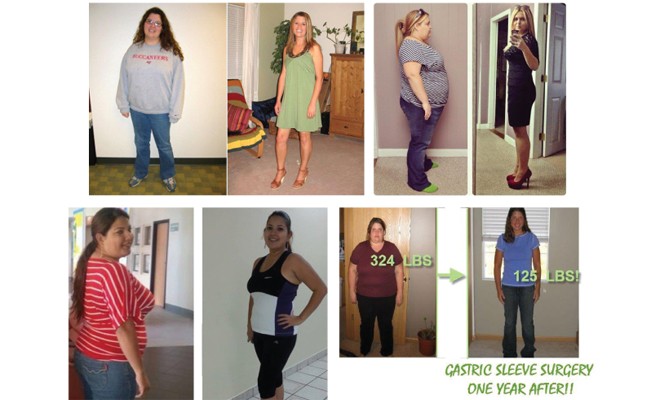 Free Information Seminars are offered the 4th Tuesday evening of each month from 6:00-7:00 PM at the Eden Hill Medical Center in Dover. No registration is required. Questions? Please call Dr. Barnett's office at (302)
674-0600.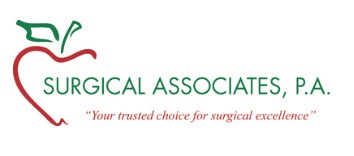 Eden Hill Medical Center
200 Banning Street, Suite 200
Dover, DE 19904
302-674-0600
www.SurgicalAssociatesPa.com