Does Your Marking P. E. R. K.?
|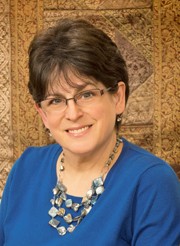 By Donna M. Duffy
Now that we are well into a new year, we want to be sure that we're on track and moving in the direction of our vision and goals. One thing that can tend to slip off the radar and take a back seat is marketing.  However, when we look at this aspect of our businesses through a different lens, marketing begins to be nothing more than:
• Cultivating Relationships with our target audience.
• Creating Consistent Content that meets needs and offers a solution.
• Sharing Relevant Messages across platforms where our tribe hangs out.
When we make it more than that, we can get lost in the minutia or overwhelmed by the work and begin to lose sight of who we want to reach and how we can best serve them.
So, Does Your Marketing P.E.R.K.
1. Presence Be sure your prospects can find you online & offline. Online: website, articles, blog, social media, videos, and podcasts Offline: networking, workshops, events.
2. Engagement Offer opportunities for your prospects to readily connect with you through texts, social media messages, email and phone calls. Meet 1:1 with your prospects for Discovery or Get Acquainted Sessions to learn about them and find out if what you have to offer will meet their needs.
3. Relevance Regularly share relevant information with your prospects and clients. Strategies, tips, how-to's and common mistakes help them and position you as a credible expert in your field and industry. Constantly and consistently create and/or repurpose content for your target audience and ideal clients.
4. Knowledge Stay on the cutting edge in your industry knowledge, technology and trends. The more you know and can implement, the more you can readily and reliably share it with your followers and prospects. Make time for professional development to ensure that you continually have something of value to share, speak on to write about.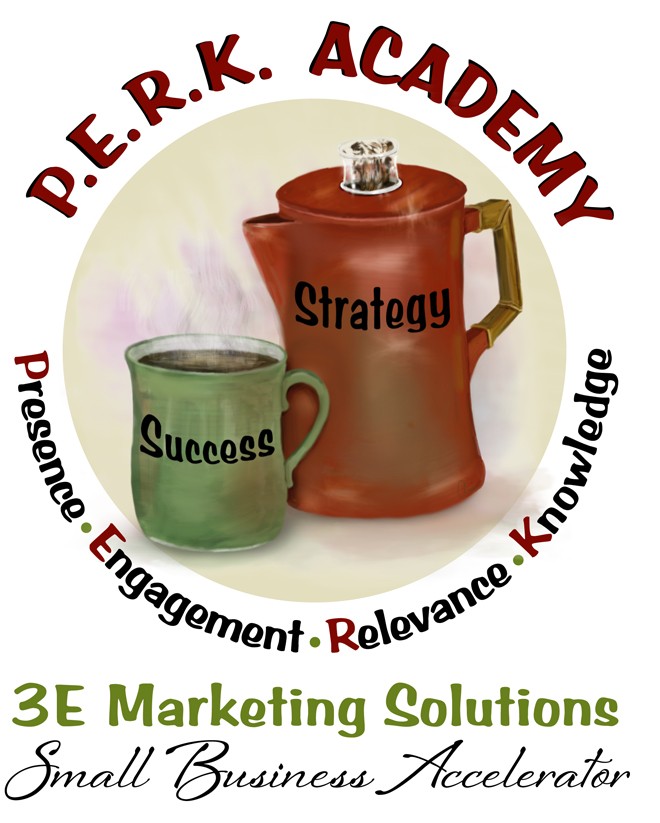 3E Marketing Solutions
P.E.R.K.  ACADEMY -a small business accelerator designed to help entrepreneurs grow successful businesses. A team of faculty will share their expertise through a variety of classes and workshops.
Tracks include:
1. Learning Tracks  
Communications • Operations • Sales • Mindset and Inner Game • Tools • Technology • and More!
2. Growth Accelerator Tracks  
• Create your Signature BLEND and Rise Above the Noise Espresso (6 weeks)
• Double Shot (12 weeks)
• Mastery Cafe (6 months)
3. Affinity Tracks
Midlife Women Entrepreneurs, Health & Wellness and Event Professionals
Have classes you want to take?  
Become a member.
Have classes you want to teach? 
Join our faculty.
Want to help others advance in their business knowledge and know how? 
Become a sponsor.
TESTIMONIALS
"My team had the opportunity to attend the Create Your Signature B.L.E.N.D. Workshop presented by Donna Duffy of 3E Marketing Solutions. The tools and strategies that we have learned and continue to learn and implement have been invaluable. By using the strategies we have learned in the series, our email campaign open rate has gone from 26% to 65% in just one week and has positioned our company for exponential growth.  I cannot say enough about the B.L.E.N.D and the marketing knowledge and expertise that Donna brings to the table." -Chantal Towles,President, Creative Business Assistants, LLC
"This course supercharged my self-confidence to market myself"  -Sondra Hanlon, Owner, Sondra HanlonProductions, LLC
"... It will be only a few weeks shy of a year when I first stumbled on your booth at the Women's Expo and said, "I've got to know those girls!"  I am happy to say that quickly turned into not only a successful business relationship, but a personal connection that continues today.
… Every visit was an eye opener for me and my company.  I truly believe that your shared experience of a wife, mother and entrepreneur allowed me to refocus and spread my wings. Your ability to dive right in there was what I needed at the time to reroute my efforts and put our company back on track to grow.
… In attending your workshops and listening to you speak, your passion is contagious and always well received.  I consider you today as one of my mentors and feel especially lucky to have been taken under your wings. 
We are looking forward to celebrating with you at the Expo! Congrats again on the book as I will be purchasing my copy!"
 -Kelly Jones, The Cleaning Girl, Inc.
Marketing Strategies 
Workshops • Strategy Sessions
Coaching • Consulting 
Implementation • Events
302.268.6234 
1201 N Orange Street I Suite 10
 Wilmington, DE 19801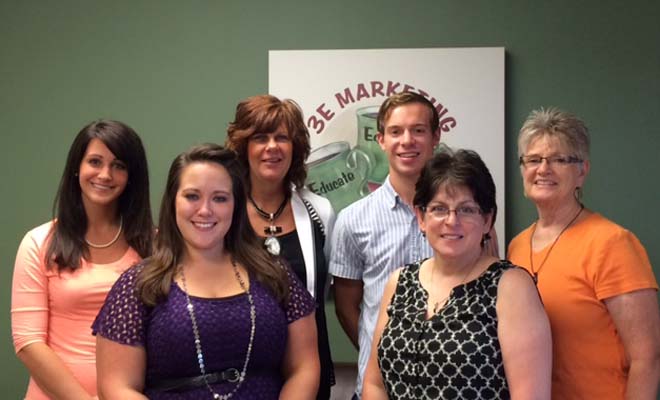 Jessica, Katherine, Marjorie, Zach, Donna & Pat
Donna Duffy is a dynamic entrepreneur and visionary who co-owns 3E Marketing Solutions whose talent for creative inspiration empowers, motivates and educates others. Donna's mission is to educate, equip and engage small business owners and organizations with affordable marketing strategies and solutions through workshops, coaching/consulting, implementation and events.  She embraces grassroots methodology, getting down in the trenches to meet business owners where they are and gains her greatest pleasure from the development of others.
Marketing Strategies • Workshops • Strategy Sessions
Coaching • Consulting • Implementation • Events
302.268.6234 
1201 N Orange Street  |  Suite 7313  |  Wilmington, DE 19801