New Techniques In MRI
|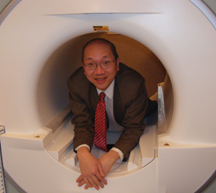 By Dr. Philip Chao
MRI is constantly changing and new techniques and knowledge is shared at the annual meeting of the International Society for Magnetic Resonance in Medicine (ISMRM). At the last meeting, there were examples of coronary artery imaging completed within 15 minutes, brain trauma high-resolution imaging at 3T, MR neurography at 3T, functional MR imaging of brain trauma and PTSD. Each one of these topics could fill this article, but I will use an example that hits close to home.
I recently saw a college student who had sports-related head trauma; he had difficulty in concentration and a decline in grades. The student and physicians knew there was a problem but all the MRI scans were negative. A 3T MRI performed with susceptibility weighted (SWI) revealed the problem. Even though the previous studies were negative, a better study showed microscopic bleeding in the brain. This is only possible using the higher resolution of 3T (or 7T—not easily available).
Over the past few years, we have found these microbleeds are related to a host of brain diseases including: Parkinson's, Alzheimer's, head trauma, brain atrophy and stroke. In all of these diseases, the connections in the brain are disorganized and lead to various brain and psychiatric disorders. I mention this because surprisingly few neurologists or neurosurgeons seem to have much interest in studying these microbleeds which are so vital to the understanding of brain diseases. Sadly, it appears one has to go to university hospitals to have a reasonable discussion of this concept.
There are so many brain diseases that require SWI at 3T, however, patients tell us that when they ask their doctors about this, they are met with a blank stare. Do your own web search. Inform yourself.  Feel free to give Dr. Chao a call to discuss. This is just ONE of literally hundreds of benefits of 3T MRI imaging. These reasons, amongst others, are why MRI Consultants, with two 3T MRI scanners, was created. We have more than eight years of experience and continue to explore the benefits. We have an office in New Castle County and one in Sussex County.
MR neurography should be used for most patients who have a peripheral neuropathy which is not explained by MR scans of the spine. To date, I have not had a single request for MR Neurography.  Diffusion Tensor Imaging (DTI) shows the connections in the brain and can show evidence of microscopic trauma – only doctors have asked about this very important technique. If you have head trauma and have difficulty thinking, you need a DTI study and a SWI study done at 3T.
In addition to our years of experience and exploration of the benefits of MRI at its best, we also offer patients the possibility of IV sedation. We scan patients that simply cannot be scanned elsewhere. We offer IV valium sedation (which usually lasts for one 15-minute study) for $50. This allows patients who are extremely claustrophobic or are in great pain to be comfortable while they are successfully scanned. Sadly, not all doctors offices are aware that we offer this service and many patients fail to get good studies multiple times before discovering us.
As an aside, you are probably aware that most insurance companies now require prior authorization before agreeing to pay for Advanced Imaging. What many people do not know is that in order to prevent self-referral and inappropriate imaging, this request for authorization must come from the doctor who knows why you need the study. Increasingly, the insurance companies ask questions to determine why a study is being ordered. We understand that this added procedural hurdle is cumbersome for the referring physicians but until Highmark BCBS (and others) change the rules, we are obligated to follow them. This authorization can be acquired online in a relatively short period of time and is required in order for the patient to receive the coverage guaranteed by their premiums.
We provide state-of-the-art MRI imaging and continue to offer incredible new techniques to help patients. We have many studies that other MRI offices don't provide. Just call and ask.
If you have any questions, please do not hesitate to call Dr. Chao at 302 295-3367 (33MR). We are here to help.
More information can be found at www.mriconsultants.net  and www.bestopenmri.net, or www.safecontrast.com
Dr. Philip Chao graduated Phi Beta Kappa from Yale University and was Scholar of the House. He continued his studies at the University of Rochester School of Medicine and Dentistry, receiving his medical degree in 1983. After a transitional internship year at the Mary Imogene Bassett Hospital in Cooperstown NY, Dr. Chao did his residency in Radiology at Brooklyn's SUNY Health Science Center (1984-1987), where he became Chief Resident. He stayed on to complete a fellowship in Neuroradiology (1987-1988). Dr. Chao has been interested in MRI technology since its very beginning – the first MRI scan took place in 1981 while he was pursuing his medical studies. The University of Pennsylvania, where Dr. Chao was both a Body MRI Fellow (1988-1990) and a Neuroradiology Fellow (1989-1990), was at the heart of the development of this technology and Dr. Chao was able to work with pioneers in MRI on the first GE Signa 1.5T (tesla) scanner. His advanced research and specializations complete, Dr. Chao left the University of Pennsylvania for a position as Director of MRI in Wilmington DE – a position he held for 14 years. Dr. Chao eventually left that position to create the best MRI center in Delaware, using the very latest technology: 3T MRI. While 3T (tesla) scanners have been used for scanning research patients since 2002, these advanced, more powerful MRI scanners only became available for clinical use in 2004. Dr. Chao worked hard to bring 3T technology to Delaware and in February 2007, MRI Consultants, LLC began operating the first 3T scanner in the State. 3T is the newest horizon for MRI.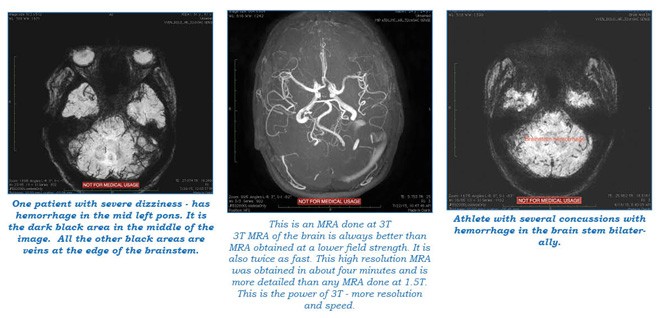 Best Open MRI
302 838 7800