Imagine A Product That Instantly Takes Years Off Your Face
|
Look younger, better, brighter in seconds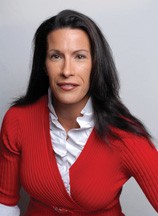 By Corinne Zoscak
We've all been there. You step out of the shower and peer into the mirror, applying your morning moisturizer, then Ewww… Sags and bags—weariness and gravity have taken hold of your face and neck. You're on a deadline to get out of the house. Is there anything you can do now?
Yes! Introducing Instantly Ageless™, a lightweight micro-cream that immediately dissolves into the skin to visibly tone and lift your face and neck. Users have seen dramatic results in seconds.
How quickly does it work?
After applying your moisturizer, pat a thin layer of Instantly Ageless™ to your problem area. Leave it damp on your skin and remain expressionless for 2-3 minutes. When it's dry, you will see your results. You can fan the area to speed things up. Once it's dry, apply your makeup as usual. Works best with the use of non-oil based makeups.
This product produces a similar effect as many of the injectables on the market – without the needle.
Check out the Before and After photos below.
How long does it last?
Apply it at 9 a.m. and you'll look great for your last appointment of the workday.
Where can I use it?
Especially formulated for your face and neck, Instantly Ageless™ works to:
Visibly diminish the appearance of fine lines and wrinkles
Erase the appearance of dark circles and puffiness under the eyes
Minimize the appearance of pores
Help to even skin texture
Matte skin for a flawless finish
Restore skin to optimum appearance
A compact, yet powerful alternative to fortify skin affected by free radicals and environmental damage, Instantly Ageless™ is at the forefront of anti-aging technology.
You can even apply it over your makeup for an emergency pick-me-up before an important event or an unexpected hot date.
Get Your Free Sample Today
Visit our web site at TheYouthfulDiva.com and order your free sample now. We will even pay the shipping for you, that's how convinced we are that you'll love this groundbreaking new product. Use your smartphone and click the QR Code below. Your sample will arrive at your home in just a few days. Do it now.
Testimonials
"I have been self-conscious about the genetic bags under my eyes all my life. Over the years I have spent thousands of dollars on so-called miracle creams and lotions and was about to schedule a consultation with a plastic surgeon until a friend shared this remarkable product with me. Within TWO MINUTES of applying Instantly Ageless my bags were literally gone – I was so impressed that I decided to become a distributor myself!"  – Susan, Hilton Head, SC, age 38
"I love how the product erases the fine lines on my upper lip. I stopped smoking about 12 years ago, but not before the lines formed. Instantly Ageless obliterates them. It also softens the deeper crease between my eyebrows."   – Mara, Teaneck, NJ, age 64
"I am so happy to have found this product. Instantly Ageless has virtually erased the "parenthesis" on the sides of my mouth, and erased the puffiness and dark circles under my eyes. I am a believer and would recommend to this product to anyone!" – Kris, West Chester, PA, age 52
"As a makeup artist I have been introduced to MANY products over the years, however this is the first one that truly caught my attention because the results are as advertised, and dramatic. I use Instantly Ageless on many of my clients to create a more perfect palette for me to apply my artistry… makeup"   –  Nicole, Makeup Artist, Pasadena, MD
www.TheYouthfulDiva.com