Beautiful Warriors
|
By Christine D'Alonzo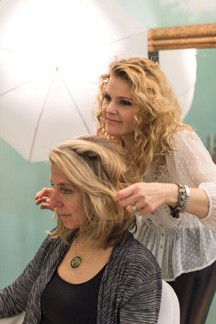 I was only 7 when my grandmother, Amelia Paris Mancini, died of breast cancer on April 20th 1977. I didn't understand what was happening. My Nana was a fabulous woman known for her vivacious style and magnificent hairdos. She was a
pillar of strength, raised three boys on a shoestring budget, and was always dressed to the nines.
I watched as she slowly lost her hair, her bubbling personality, and her sense of self. The less pretty she felt the less she would leave the house and eventually the couch became her permanent bed. It's easy to underestimate how important it is to feel beautiful unless you see first hand what happens when someone loses their self confidence.
Nowadays, breast cancer treatments are evolving to fight back better and so are beauty treatments. At our salon we use Hairdreams hair extensions to add volume, length, and to cover areas of hair loss or thinning. Health has a huge impact and sometimes, even after
an illness is conquered, the hair may be left limp, thin, and lifeless. With the help of high quality hair extensions, we're able to give people back the confidence and vibrancy that comes with a full head of hair you can be proud of.
Hairdreams extensions are unique, they're made with the finest quality human hair so they shine, style, and feel just like your hair! Each bond is the size of a grain of rice which makes them light and comfortable with a long wear time of up to 6 months. You can treat these locks just like your own and you'll find they even hold a style longer. Those who experience the miracle of Hairdreams are our most grateful and loyal guests. These extensions are perfect especially in unusual situations. For example, my friend Teresa Jordan Atkins suffered from a brain tumor for ten years. She endured countless operations and as a result had a bald spot shaped like a horseshoe on the side of her head. After she had healed we were able to carefully arrange the Hairdreams around the section where her hair was missing. She was absolutely thrilled with the result – she looked gorgeous and began to feel like herself again! She was brave enough to allow the local news channel to film the process in order to get the message out there. We wanted people to know that this option exists, that feeling beautiful again is always possible no matter what you've
gone through.
I am thankful to have been an integral part of these and many other inspirational journeys. In that spirit, I named my salon after my Nana and dedicated it to the strong women who are always empowered and who never let life's challenges get the best of them.
In loving memory of Amelia Paris and Teresa Atkins, we proudly offer FREE support services: wig cuts for anyone in treatment, fantastic cuts prior to hair loss, and trims during regrowth. We also hold hands, shave heads, give huge hugs, offer positivity, and prayers! After all, love is free and there is no work in the world that is more rewarding than helping others in times of trouble. We are happy to serve and support all women.
Everyone of us deserves to feel beautiful, never settle for anything less.