Sharing The Precious Gift Of Mother's Milk
|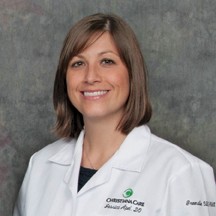 By Jessica D. Apel, D.O.
By Jessica Apel, D.O.
As an obstetrician, I encourage moms to breastfeed their babies because mother's milk is the best nutrition, but I also know that some moms, even with good intentions, may not be able to nurse their babies. Medications, certain illnesses, challenges that come with twins, and other obstacles may limit breast-feeding success. Mothers who are adopting a baby or having a child via surrogate also need access to breast milk.
As a mother who has been lucky enough to nurse two babies, I understand how meaningful it is for moms to provide the perfect food to help their babies grow healthy and strong.
I felt very fortunate that I was able to nurse my daughter, Ella Mae. And when my son George was born, the experience was going to be even better in my mind. I was a seasoned breast feeder and had learned from my "mistakes" the first time.
All went well for five months, and then George started developing problems. He was fussy, congested, had loose stools, some times screamed in pain, and had developed a rash that we couldn't seem to figure out.
After sifting through various causes over the course of several weeks, a trial of soy-based formula resolved almost every issue within 4 days. The realization that my milk was causing my son to be sick was absolutely devastating. Breast milk is best right? Not for George. It took me weeks to wean from pumping because my supply was so strong, and I had no idea what I would do with the almost eight gallons stored in our freezer.
It look me a while to come to the decision to part with my breast milk. Initially my pediatrician suggested storing it and retrying when George was older and potentially could tolerate the milk. I had put so much effort into pumping and storing more than a 1,000 ounces of milk. To pour it down the drain would have broken my heart. Approximately six weeks after George's initiation into soy based formula use, he was a happy and thriving baby. My husband and I decided we would not give him the breast milk again. Now, what were we going to do with all of the breast milk in our freezer?
At this time, a patient of our practice had delivered her baby prematurely and for a variety of reason could not produce milk. One Saturday morning, she revealed they had signed up for the Milk Bank. A wave of relief flooded over me … why did I not consider donation before?
I quickly contacted the Human Milk Banking Association of America, a nonprofit organization that operates a network of milk banks throughout the United States and Canada. (You can learn more on the website https://www.hmbana.org. After some further research I decided to donate to the milk bank in Indiana, which serves the Neonatal Intensive Care Unit (NICU) at Christiana Care Health System.
Guidelines for donating
Mothers who want to donate milk must be willing to commit to strict guidelines in order to ensure the milk is safe. Here's a checklist:
The donor mom must be in good health.
She must have at least 100 ounces of milk to donate.
She must take a blood test to rule out diseases such as HIV, hepatitis B and syphilis. (The milk bank pays for the test).
Submit proof of immunizations from your doctor.
Pass a drug-screening test.
Submit a form from your pediatrician reporting that your baby is in good health.
Breast milk is absolutely the best food for babies. The American Academy of Pediatricians recommends breast milk exclusively, if possible, until six months of age. Mothers who find themselves in a similar situation to mine or are blessed with a bountiful supply can help other families in the best way, by donating.
To make an appointment with Jessica Apel, D.O., contact:
Christiana Care Obstetrics and Gynecology at Greenville

3706 Kennett Pike, Greenville
302-623-6320
www.christianacare.org/greenvilleobstetricsandgynecology