Prevent The Diamond Blues – If it's too good to be true…
|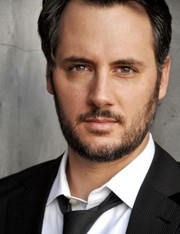 By Edward Stein
Edward Stein continues in the family business founded by his grandfather, Maurice Stein in 1930. Stuart Kingston Jewelers is located on Pennsylvania Avenue, Wilmington, DE.
I've been conned before, and it really stinks. Aside the fact that you feel a bit helpless and dealing with loss of money and the time spent dealing with a horrible situation you start to lose faith in the world around you. It's the same thing when buying a diamond and finding out what you bought was not what it was represented to be. It's wrong and its corrupt and it infuriates me. We buy diamonds frequently and many times people come in with certificates of authenticity or appraisals of the diamond and the paper says one thing but the diamond is something completely different.
When buying a diamond from a jeweler a question that people always ask is, "Why does it cost one price here and another price somewhere else?"  I mean if we are comparing apples to apples why not the same price? The problem is that one place has an apple and another place has a rotten tomato with a certificate that says it's an apple. Recently there was an article written about a jewelry store that was selling diamonds with EGL International certificates. It said that the diamond was G color and VS2 Clarity. The customer paid a price for a G color VS2 clarity that was cheaper than the other retail store selling the same stone.  When this customer took the diamond to have the ring appraised by the G.I.A they found out the diamond was in fact a J color SI2 clarity. That discovery would amount to a HUGE difference in price and quality. Diamonds are priced based on the 4 C's (see our chart and information on grading diamonds). The problem is that some retail stores are getting bad certificates so they can say to you, "Hey look it has
So now the question is, how do you protect yourself from making a bad investment and actually know what you are buying is a true quality diamond? Many times stores' will have certificates that go along with the diamond from an independent Certified Gemologist vs. other stores that offer their own certificates, which is a conflict of interest or in layman's terms, a huge no-no!  You might see legitimate looking certifications like EGL or IGI or AGL, however the only certification company that is consistently recognized around the world is the GIA.  No I don't work for GIA and no the GIA is not paying me to write this article. If you do any research or understand the diamond trade business at all, GIA will be the one certifying body that most, if not all experts agree is the most qualified to grade stones.
Last week, I saw an ad on Face Book that advertized Ray Ban® Sunglasses for $35.00– 1 day only! I thought, "Wow $35.00, when they normally cost $120.00 on average!" Of course I bought them and of course they turned out to be fake, nice glasses for $35.00, but not Ray Bans® even though they say Ray Ban® on the glass.  So when a deal seems too good to be true…..well you know the answer.
Please Sign Up Online 
Receive our blog and special invitations like our Men Only Preview Events, Contests, Discount Days and more!
www.http://www.stuartkingstonjewelers.com/newsletter.php
Testimonials
Buying a ring is a daunting task, especially for someone like me who really had no clue where to begin. Edward and the team at Stuart Kingston walked me through every single step of the process. I went down to learn about the differences and Ed gave me some great advice.  I started gathering some information about what styles she liked and sent them some pictures.  His team helped me design and customize a ring that would be perfect for her.  It only took a few weeks to build and they updated me every step of the way.  Once it was completed, I was blown away and it made my proposal a lot easier knowing I had a beautiful ring from Stuart Kingston by my side. I would recommend this place to anyone as you won't find a better team to help you from beginning to the end. – Brad Rittle
I recently purchased an engagement ring from Stuart Kingston Galleries and cannot sing their praises loud enough. I'm a dude, through and through, and had no practical knowledge about buying diamonds; let alone building a ring. They walked me through the entire process, from picking the stone, to custom designing the setting, to getting the ring insured. When they didn't have the diamond I wanted in house, they shopped around for the diamond and found something that hit all of my wants and stayed within my budget. When they delivered the ring, I couldn't have been happier. Best of all, when I delivered the ring she said yes. Thanks Ed, I couldn't have done it without you! – Maximillian Osswald
I would never go anywhere else to buy an engagement ring…and I live in Los Angeles.  The Stein's are the classiest, most trust worthy people in the jewelry business.   I even got my friends in NYC, NJ and CA hooked on the Stein's.  We did everything seamlessly through the phone, email and fed-ex.  When making such a big purchase you really need that trust factor…and you can absolutely trust Stuart Kingston Galleries. – PJ Byrne
My cushion cut diamond engagement ring from Stuart Kingston Galleries is absolutely exquisite. My fiancé collaborated with Edward for months leading up to our proposal and was so grateful for Edward's incredible knowledge and guidance. The design is breathtaking, and the quality impeccable. We couldn't be happier! Not only are we in love with the ring — but it means the world to us to have worked with such an honest and trustworthy jeweler whose expertise is above and beyond. I look forward to designing our wedding bands with Edward and to visiting Stuart Kingston for other meaningful pieces in the years to come. – Brooke Lyons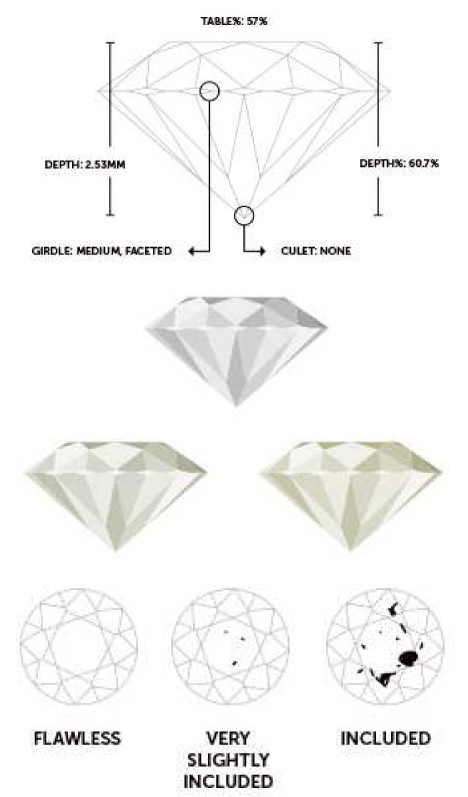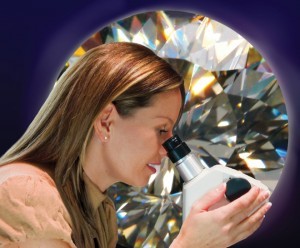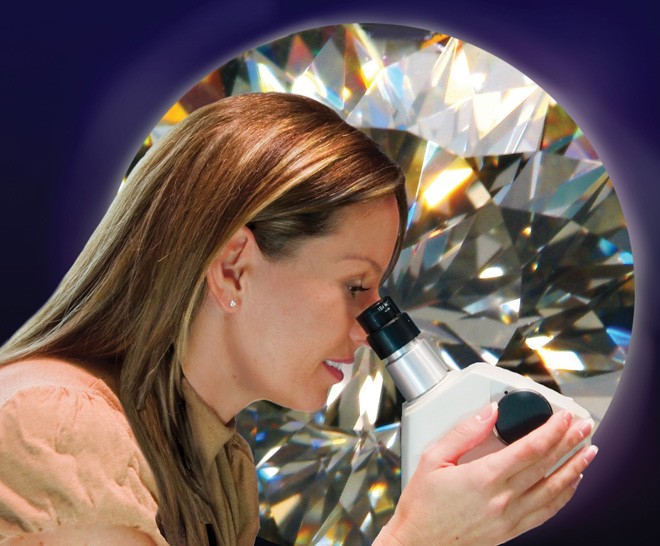 Stuart Kingston uses outside independent GIA Gemological services to ensure your investment in diamonds or precious gems are graded with special care and accuracy. See more information on how diamonds are graded according to the 4 C's, click here: http://www.stuartkingstonjewelers.com/diamond-buying-guide.php