3T MRI Is The Best For Imaging The Shoulder
|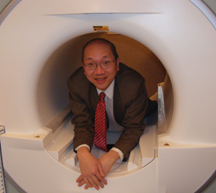 By Dr. Philip Chao
Doctors continue to learn after they graduate.  Dr. Chao worked with Mike Zlatkin who developed MRI imaging of the shoulder.  A good radiologist makes a huge difference.  The added detail we see using 3T MRI matters for imaging of the labrum.
We had a 60 year old patient with shoulder pain and a negative x-ray.  The routine x-ray is a very poor test for imaging the shoulder.  It is always done but it misses almost EVERYTHING that might cause shoulder pain.  The doctor wanted to inject steroid without MRI imaging.  This is a mistake. If you use steroids without knowing if the patient has a tear – you may make matters worse.  An MRI of the shoulder in all patients older than 50 is necessary because of the high incidence of rotator cuff tears and disease.  Tears smaller than 1 cm can be repaired with an arthroscopic acromioplasty (day surgery).  If you wait till the tear is larger it will often require extensive surgery.  If the tear is retracted most surgeons will not operate and you lose the use of your shoulder.  This is why imaging with 3T MRI earlier is ALWAYS better.
3T MRI scanners had more detail and are used for most sports teams.  It costs the same as the slower inferior 1.5T MRI which most doctors think is adequate.  At 1.5T the scanner cannot see a labral tear without an expensive and painful procedure called an MR arthrogram.  At 3T we can see the tears without any contrast.  So we save up to 1000 dollars with our extra detail.  If there is any question we can use IV contrast and see the labral tear of your hip or shoulder joint or knee without an invasive procedure.  This is called an indirect arthrogram.  Our OPEN MRI scanner is the widest and most spacious, and least claustrophobic MRI in the world.  We also offer IV sedation ($50) in case you can't tolerate the study.   BLADE software actually compensates for movement (of your shoulder or hip) and allows us to get clearer pictures.  Most doctors don't know this can make the difference in seeing a tear.  Some patients who come to our OPEN MRI have been to 4 other scanners before finding out that ours is the only one that they can fit into.
We have had the ultimate 32-channel 3T MRI scanner for two years in Lewes and a 8-channel 3T scanner in Newark for 8 years. Still most physicians do not know of the difference and the need for higher resolution and contrast.  I only ask that people (or doctors) call and ask me why 3T MRI is better. We have the most experience at 3T.
MRI is constantly improving.  MRI does not expose patients to radiation.  CT scans use a lot of radiation.  This x-ray radiation causes cancer.  We strongly recommend you ASK your MRI facility how strong their MRI scanner is.  Radiologist experience and training matters as well.  Dr. Chao is both a neuroradiologist, musculoskeletal and body MRI doctor (double fellowship).  Find out before deciding where to take the prescription your doctor gave you to get an MRI.  (Remember, the doctor writes the prescription, the patient decides where to fill it.).  Contrast MRIs are particularly good for finding tumors, infection and inflammation.  It does this without radiation and the contrast used in MR (which is neither iodine, nor shellfish-based) is much safer.  And, even within the group of five or six MR contrasts, we use only the safest—Multihance, Prohance and Eovist. www.safecontrast.com
MRI Consultants remains committed to providing the very best imaging and patient care possible.  Also, given the complications of medical insurance, our office has an Out-of-Pocket price of $500 and $700 with contrast.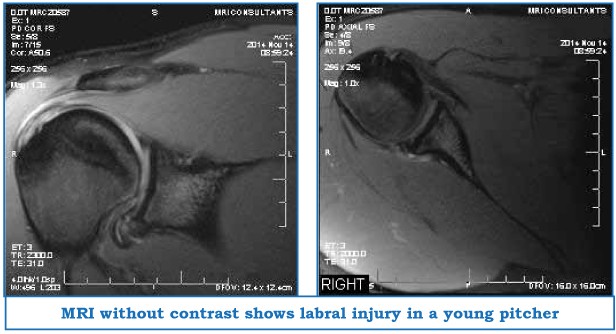 Publisher's Testimonal On Dr. Chao And 3T MRI
If you are one of the many people who are troubled with major shoulder pain as I have been for the last several years then take my personal advice. I have been to several orthopaedic surgeons in the past few years,and they all take ex-rays or cat scans. THIS DOES NOT TELL YOU THE SOFT TISSUE STORY. I finally went to Dr. Chao since no one was able to help me. In one hour I found out from Dr. Chao and his 3T MRI that I had 6 major problems with my shoulder. None of which showed up on an x-ray or CAT scan. Thank God I am now on my way to recovery dealing with the specific problems, not speculation. Do yourself a favor call Dr. Chao. 302-827-4251 and schedule a 3T MRI.  – Publisher Sussex County Woman
If you have any questions, please do not hesitate to call Dr. Chao at 302 295-3367 (33MR). We are here to help.
More information can be found at www.mriconsultants.net  and www.bestopenmri.net, or www.safecontrast.com
Dr. Philip Chao graduated Phi Beta Kappa from Yale University and was Scholar of the House. He continued his studies at the University of Rochester School of Medicine and Dentistry, receiving his medical degree in 1983. After a transitional internship year at the Mary Imogene Bassett Hospital in Cooperstown NY, Dr. Chao did his residency in Radiology at Brooklyn's SUNY Health Science Center (1984-1987), where he became Chief Resident. He stayed on to complete a fellowship in Neuroradiology (1987-1988). Dr. Chao has been interested in MRI technology since its very beginning – the first MRI scan took place in 1981 while he was pursuing his medical studies. The University of Pennsylvania, where Dr. Chao was both a Body MRI Fellow (1988-1990) and a Neuroradiology Fellow (1989-1990), was at the heart of the development of this technology and Dr. Chao was able to work with pioneers in MRI on the first GE Signa 1.5T (tesla) scanner. His advanced research and specializations complete, Dr. Chao left the University of Pennsylvania for a position as Director of MRI in Wilmington DE – a position he held for 14 years. Dr. Chao eventually left that position to create the best MRI center in Delaware, using the very latest technology: 3T MRI. While 3T (tesla) scanners have been used for scanning research patients since 2002, these advanced, more powerful MRI scanners only became available for clinical use in 2004. Dr. Chao worked hard to bring 3T technology to Delaware and in February 2007, MRI Consultants, LLC began operating the first 3T scanner in the State. 3T is the newest horizon for MRI.
Best Open MRI
302 838 7800