Announcing The Morris James Personal Injury Group New Phone App!
|

By Susan D'Alonzo Ament
The Morris James LLP Personal Injury Group is happy to announce our iPhone and Android Apps!  Be prepared and upload our app now, which will guide you through the uncertainty of "What do i do now?" in the unfortunate event you should ever become involved in an automobile accident.  The Accident App is available for both iPhone and Android users.
While still at the scene of the accident, you will be able to access tools to do all of the following: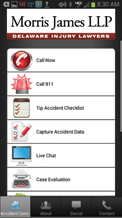 A 911 fast-call button
Tip Accident Checklist
Capture Accident Data:
Driver/Vehicle information
Details of the accident
Police information
Insurance information
Witness information
Take and save photos of your vehicle damage and accident scene
Audio recordings
Video recordings
Notes
Flashlight feature helps you see at night
Access the Morris James Personal Injury Group Website
Contact our Personal Injury Lawyers to discuss your legal rights and options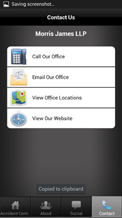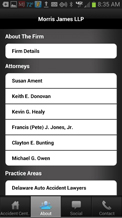 Our app also offers a Live Chat feature which allows you to have immediate contact with a live person 24 hours a day, 7 days a week.

The Morris James LLP Delaware Personal Injury Lawyers combined have 153 years of experience in personal injury litigation. We understand the importance of acting quickly to preserve evidence and record the facts surrounding your auto accident. The Morris James LLP Personal Injury Group is committed to using the latest technology and detailed preparation and investigation skills to help victims of accidents (automobile, truck, motorcycle, bus and pedestrian) obtain maximum compensation for their injuries.
This is the first phone app offered by Morris James LLP. To learn more about the app or to download it, search for "Morris James" in iTunes or Google Play.
Susan D'Alonzo Ament is a partner with Morris James LLP and has practiced for 30 years representing personal injury victims. Over the years, Mrs. Ament has found that some women don't understand the crucial need to have adequate automobile insurance coverage in the event of a serious accident. Susan Ament educates women on these needs every day in her practice and in seminars that she presents throughout the year.