Silence
|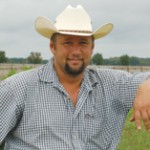 By Dean Roles
Most people are afraid of it, even fewer people practice it and least of all are people who apply it properly. Without the silence between the notes, music is just noise. You must have that space (silence) between the notes to create the beauty of music. This analogy of the art of creating music and comparing it to working with horses is one of the effective comparisons I have come up with. If you compare a cue on a horse to a note and compare the silence with the time between the cues, this analogy alone can steer you into the proper mind set when working with a horse. When humans find proper balance between the silence and noise, miracles happen, whether it's music, horses or life in general.
So why if it's so simple, why is it so hard? The answer is in the first sentence of this article, fear. Horses are large, powerful, non-remorseful, and not persuaded by your superficial self. Fear destroys beauty, relationships and life in general. In reality there is only one cure for this plague of fear that destroys…   FAITH!
Faith in GOD, faith in yourself, faith in your horse is what is needed. Faith can always trump fear. Once you find faith, you find the ability to be still (silent), calm, cool and relaxed. Once found, this state of faith must be exercised in a continuous manner. The exercising of faith is the practice part of silence. How to apply it properly (the least of all part), well that takes wisdom, but I can tell you that just being quiet is not silence. Lack of fear is not faith, the truth is; faith is not even necessary without fear!  And to return to our analogy, not making notes will not produce beautiful music! It takes both! Noise and silence to produce the song of life!  It is because of fear we exercise faith and the exercise produces abilities and those abilities produce a joyful noise, the perfect song.
Testimonial
I met Dean Roles during the summer of 2010. Since then, my life and my horse's life have changed in a positive direction. I am no longer afraid to ride my once anxious, nervous, confused Tennessee Walker named Tony. Building a close and solid relationship of trust and understanding with your horse is Dean's foremost goal. He asked me at our first meeting what I wanted to achieve with my horse. My reply was that I wanted a safe and more relaxed horse to ride. Thus began our first month of training. When I brought Tony to Dean's facility, I thought Tony had good ground manners. Boy was I in for a surprise. Dean informed me that Tony was the leader and I clearly was not. Dean worked with Tony for the first couple of weeks while I observed his techniques with both groundwork and riding skills.
I didn't miss a day of training…..five days a week. Then it was time for me to get up in the saddle. I was a nervous wreck with lost confidence and I am sure Tony knew it. Dean certainly did. But we worked through my fears with baby steps. By the end of the next two weeks, I had regained my confidence and could not wait to get Tony back home and ride him in the ring. What a different horse in just four weeks…..much calmer, less anxiety, and overall just a happier horse. Winter came and went, as did summer whereby I was unable to ride due to a back injury (non-horse related).  However, this past August, Dean came to our farm and my training resumed through the end of October. His techniques and ability to finesse a horse with what appears to be little effort is nothing less than amazing. I cannot describe how happy I am that I chose Dean Roles to be my trainer. He is a confident leader in the horse arena and is teaching me to be a confident leader with Tony. If Dean were to ask you what are the two most important things you are in charge of with your horse, you would quickly reply "speed and direction." Once you have control of those two key elements you will be on your way to a happy and safe riding experience. Thank you, Dean, for everything you have taught me and for everything you will continue to teach me.  – Pam Nebel, Harrington
centaurllc@yahoo.com www.centaurtrainingllc.com