Everything You Wanted To Know About A Bra Fitting (But Were Afraid To Ask!)
|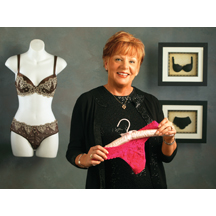 By Debbie Esslinger, Owner
Around 80% of women are in the wrong bra size.  Literally millions of women are not looking or feeling as good as they deserve.  In fact, when did you last get fitted?  Have you ever been properly fitted?
Selecting a good bra is brought to you by BARE ESSENTIALS.  Our bra boutique wants to prove how easy it is to choose a bra that loves your body.  We'll help you every step of the way.
What Does a Good Fit Give you?
*More Comfort
*Better Shape
*Less chance of sagging breast tissue
*Better Posture
*More confidence – and feeling good inside makes you look even better outside.
If you've never had a bra fitting, or it's just been a while, don't put if off any longer.  You'll find friendly and helpful trained fitters to take the worry and apprehension out of finding the right bra.
You should get fitted every six months.  Our bodies change all the time, so it's really important to keep checking your bra size.  Once your correct size has been determined, our experts will assist you in picking the right style for your body type.  The size range of our bras helps our fitters to accommodate most women.  But, remember, you may not take the same size bra in every style.  Each bra is cut differently, just like jeans or skirts.  You may take a certain size in one brand, but something else in another. There is no "one size accommodates all" in bra fitting.
Which style suits you?  When we are choosing a bra that'll make you look great, we need to consider what we're working with.  Different styles suit different bust shapes. Whether you are small, average or full busted, there is a bra that will accommodate your form.
Keep an eye on your hooks.  If a bra fits properly, you should be able to comfortably fasten it on the loosest hook.  Then, as the bra adjusts to your body or begins to age, you can gradually work your way in.  If you have to go straight to the tightest hook, that bra is not right for you.  The bra should be low and tight on the back, with no riding up.  If it rides up, the band is too big.
A Good bra has your bra band level and snug (but not too tight) all the way around.  Your bust should be fully held and supported by the underwire or the strong band of a non-underwire.  There should be no overspill or puckering in the cup.  If it's an underwire, the bra should sit flat against your chest wall. Using these tips, you will look fabulous and feel comfortable and supported.
Bare Essentials also offers bra fitting swim wear in D-H cup.  Some of our bra companies also make swim suits and really know how to fit the curvy girl.  If their bras fit you, so will their swim suits.  WOW!
Try us on for size……you'll love a very "fitting" experience.
Bare Essentials
Bra Boutique
4009 Concord Pike
Wilmington, De 19803
MyBareShop@aol.com
302-477-4888
www.mybareshop.com
Fittings:
Mon-Sat 10-6, Wed 10-8
Visit my new website at www.mybareshop.com