Pushups for Charity™ Challenge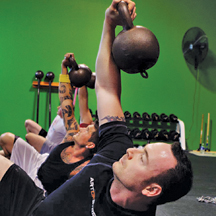 By Chris Gray, President
There are weights you can shake, there are electrode belts you can wear on your stomach, there's even a machine that simulates horseback riding, which is touted as a great way to strengthen your core. At the gym, people are confronted with dozens of different machines, and the television commercials are constantly hawking the newest "breakthrough."  The truth, however, is that a person's own bodyweight is the best fat-burning exercise machine in the world.  And it's free to use.
Bodyweight exercises like pushups, squats, pull-ups and lunges are really all anyone needs to burn the fat off in record time and build lean, sculpted muscles that look great in the office suit, bathing suit or birthday suit.
Fitness expert Chris Gray of Punch Kettlebell Gym, a personal training center in Dover Delaware is on a mission to spread the word about bodyweight exercise, help a lot more people get in great shape and raise money for severely injured men and women of our Armed Services with his Pushups for Charity™ Challenge.
Pushups for Charity, founded in 2010, began as an 80 gym challenge. Participants enlist the help of friends and family for sponsorships, with donations of as little as $0.50 per push up.  The program was created to encourage people to give back while embracing a healthy lifestyle. Past events have raised over $250,000 and this year the event is aiming for a record $500,000 donation to benefit The Boot Campaign, a non-profit that donates proceeds to a group of partner charities that work with soldiers healing from a variety of physical and emotional combat wounds, embodying the campaign motto that, "When They Come Back, We Give Back."
Pushups for Charity is an alliance of many of the world's most respected fitness professionals who have come together to support worthy charities by providing free fitness coaching and exercise programming to all who participate in a Pushups for Charity event, or sponsor someone participating.
"It's a great way to get fit, have fun and make a difference," says Chris Gray.  "Everyone is welcome to join us regardless of current fitness level.  We help you get ready for the challenge so you can do as many pushups as possible in 90 seconds.  The person that does the most pushups in 90 seconds wins the challenge.  It's that simple." But it doesn't matter if you can only do 10 – every single pushup counts, because every pushup you do raises money for charity, and every dollar goes directly to the charity – we don't keep a dime.
If you already exercise regularly…congratulations! We want you to come out and do Pushups for Charity as a role model and inspiration for others (you know…pay it forward). But if you've fallen off the fitness band wagon – or never got on it in the first place – then this is a perfect opportunity for you to learn the fundamentals of good exercise and fitness from us, real experts with a proven track record of success…for FREE!
Chris Gray, President of Punch Kettlebell Gym added, "We are honored to partner with The Boot Campaign for Pushups for Charity 2012. Our goal is to accomplish the dual purpose of not only raising funds for veterans causes, but raising the public's awareness of our military and those who serve and have served so we 'never forget'."
The Boot Campaign embodies the spirit of Push Ups for Charity.  The purpose of the Boot Campaign is to make a difference in the lives of wounded military both retired and active duty. They do this in two ways; one is through the sale of their signature combat boots and second is by partnering with businesses in awareness events.  That's why The Boot Campaign and PUC are coming together: to make a difference for these; our wounded military heroes!
What started as an idea by five women, to honor troops for their sacrifices, has become a national non-profit charity organization that donated over a million dollars, in their second year of operation, to charities meeting the needs of wounded military.  It all began with a simple request by The Boot Girls who asked celebrities to take a moment and appreciate their freedom, by wearing boots for a photo.  It snowballed from there to the point that the Boot Campaign offers over 15 different styles of boots including an assortment of OSHA approved steel-toe work boots for hardworking Americans in industries where safety boots are required.
The goal is to promote patriotism, raise awareness of veteran's issues, and provide funds to assist our military heroes.  They do this by selling boots and participating in awareness events like PUC!  It's as easy as 1, 2, 3!  So what are you waiting for?  Get your boots ON and know your action is changing the lives of those who have protected ours!
We have an aggressive fundraising goal for Pushups for Charity. We'd like to be able to donate a significant amount of money to charity. But in order to do that, we need "all hands on deck."   Here are three different ways you can help:
You can register to participate by doing pushups at your local Pushups for Charity Challenge event.
You can register to sponsor someone who is participating in the Pushups for Charity Challenge.
You can help by spreading the word about Pushups for Charity by telling everyone you know about this website.
I sincerely hope we can count on you to help raise money for charity by participating in whatever capacity you're most comfortable with (it's a good idea to step outside your "comfort zone" from time to time, especially when it can benefit others – and you – so much, so we sincerely hope you will participate).
For more information
or to register visit