'Tis The Season For Safe Driving
|

By Susan D'Alonzo Ament
It's easy to get caught up in the magic of holidays in Delaware. Everyone seems to be in a better mood, and all of the hustle and bustle – including shopping, parties, and visiting with loved ones – makes the cold weather a little easier to bear. Of course, making merry has its price, as travel can be especially dangerous during this time of year.
Whether you are traveling locally or planning a trip to visit friends or family out of state, it's important to take some extra precautions when driving during the holiday season. To best avoid unpleasant situations like collisions, theft or more, follow these safety suggestions:
Perform routine maintenance. One of the easiest ways to avoid car mishaps is to drive a safe vehicle. Check and rotate your tires, get a tune-up and have your oil changed regularly, at least every six months. Keeping up with these tasks ensures that your vehicle will be in top driving condition for Delaware's often-treacherous holiday weather.
Prepare for inclement weather. Due to the unpredictability of the East Coast's weather conditions, it's always a good idea to keep an emergency kit in your vehicle. Emergency kits include items that can help signal others in times of distress, make minor repairs, or help keep you protected from excessive temperatures while stalled.  These kits can be purchased for as little as $30, or you can make your own. Some items that you might want to include are blankets, water, road flares and tools. For more ideas on what to include in your vehicle emergency kit, speak to your auto insurance agent or visit www.redcross.org.
Drive defensively. Just as the old adage goes, sometimes the best offense is a good defense. The lack of a sales tax draws more people into Delaware during the holiday season, which means the chances for collisions increase. When driving, be on the lookout for erratic drivers, slippery roads, snowdrifts and other unusual conditions. Never drive at speeds that would prevent you from taking necessary corrective actions, particularly in the evening when hazards are more difficult to see. Also, keep your eyes on the road, as you never know what other drivers have had too much eggnog.
Don't leave valuables in the car. When you travel, there's a good chance that you'll leave your vehicle unattended in places with which you're unfamiliar.  In order to avoid holiday break-ins, don't leave valuables in your car, especially in clear view of anyone who walks by. Many criminals take advantage of holiday shoppers' generosity, and when your new purchases are visible, they make for a tempting target. If you must leave items in the car, opt to put them in the trunk, away from prying eyes.
Give a copy of your itinerary to a friend. Whether you are headed out to the mall, a party or a relative's house, let someone know where you are going and how you intend to get there. In the event that you are in an accident, stranded or are incapacitated, your contact will know your intended route and be able to pass relevant information along to the authorities.
A little extra vigilance and a lot of common sense go far in keeping everyone safe during the holiday season. If we all take these simple protective measures, we can significantly reduce the number of serious accidents that occur on our state's roads and highways. Sadly, every day in our law practice, we see victims seriously injured in automobile accidents due to another person's negligence or reckless driving.  Be sure to follow these guidelines to protect yourself and others during one of the most wonderful times of the year.
The Morris James Personal Injury Group wishes you and your family a safe, happy and healthy holiday season!
Susan D'Alonzo Ament is a partner with Morris James LLP and has practiced for 28 years representing personal injury victims. Over the years, Mrs. Ament has found that some women don't understand the crucial need to have adequate automobile insurance coverage in the event of a serious accident. Susan Ament educates women on these needs every day in her practice and in seminars that she presents throughout the year.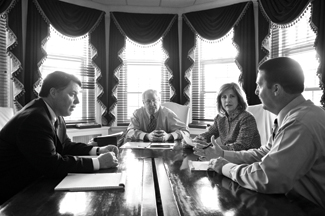 Partners (left to right): 

Kevin Healy, Pete Jones, Susan D'Alonzo Ament, Keith Donovan