Wave Good-Bye To Winter!
|

By  Debbie Esslinger, Owner
If spring is in the air, then summer can't be too far behind!  Everyone says, "I can't think about a swim suit yet".  But, in reality it won't be long before spring  is here serving up plenty of mini-vacations with trips to sunny, warm shores.
Bare Essentials is the place to discover swim fashions for gals who have a difficult time finding bra sized swimwear that enhances their body shape and allows them to purchase separate tops and bottoms for a perfect fit.   Being a bra fitting boutique has given us an advantage in helping women discover a more uplifting look in their swimsuit. Our suits are all cup sized starting in B cup with our largest selection of suits in D to J cup.  The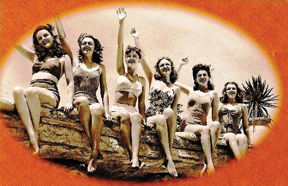 swimsuits are designed by bra companies who know how to fit and flatter a woman's body. Come experience shopping in a swimsuit boutique that offers a selection of sizes perfect for your body type.  As all women know, dress size does not equate to bra size.  The same is true in swimwear.  Most retailers sell swimsuits in sizes 6-16 and do not take into consideration your bust size.  This has left many fuller busted women with the frustrating task of finding a suit that offers good support.  With our wide selection of bra-sized swimsuits, women are finally able to look their best for beach season.
New this year, our sun hats, totes and adorable shoes are the perfect accent to warm weather wear!  We feature a unique selection of cover-ups to accent your look.  From the beach to the bar we "gotcha covered".
Helping you get in shape for swimsuit season, we offer the best sports bras on the market today.  Most sports bras rely on compression – pressing your breast against your ribcage.  Our sports bras hold and support the breast tissue individually reducing movement in all directions.  We are excited to introduce the new Panache Sport bra available from D-H cup, offering 83% less bounce for the ultimate support for any sport.  Bare Essentials, a Bra Fitting Shop for the Modern Woman.
Visit my new website at www.mybareshop.com