I Just Got Back!
|
The Lodge at Woodloch Spa, an all–inclusive Destination Spa.
This facility is part of the Woodloch Pines Resort – Hawley, PA. I have just returned from a wonderful 3 days at The Lodge at Woodloch Spa. This is one Destination Spa you definitely want to experience. Please note that this Spa caters to both men and women. Knowing that, I convinced my husband to join me. We both were pleasantly surprised to find that we were not the only couples there. This location was a wonderful respite from the city, the kids, work and all else that occupies your mind.
Upon arrival, I knew this was going to be a wonderful experience. The first thing I noticed was that ALL staff members (from the front gate to house keeping) were very warm, courteous, and made you feel that no request was too big or to small. Oh did I mention, valet parking. The Rooms were comfortable with marble bathrooms and balconies with a view.
The Dining experience (all meals included with your stay) – delicious, healthy, well done. I actually slowed down to savor every bite. Oh, and the deserts were great too. I must mention Robin and her team added to the experience.

Activities – outdoor (e.g., hiking, walking, kayaking) or indoor (e.g., exercise and art classes, cooking demonstrations, invited speakers, and wine tasting). You also have access to their signature golf course.
The variety and quality of classes coupled with great instructors were excellent.
While there, Jeanne Herrmann- Golf & Spa Sales Mgr., gave me a tour of the entire Woodloch Pines Resort property and shared their history, vision and growth of the many facilities that encompass the Woodloch Resort.They have recently added a new entertainment theater with Off-Broadway type theme shows that we truly enjoyed.
The Spa – Has everything you could think of and more. In addition to being a 5 star facility, there is an outdoor horizon whirlpool looking out over a forested area and a two-tiered waterfall whirlpool near the glassed-in indoor pool. Tip: the indoor waterfall was great as a quick shoulder massage.
The Lodge at Woodloch Spa was a great getaway and a memorable experience. Who would have thought this was so close to home. For further information on this location or if you would like to plan a girlfriend getaway, please don't hesitate to contact me.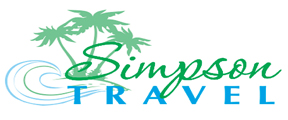 Testimonials:
With all our traveling together, my husband and I have never used a travel agency. Preparing to plan our honeymoon, together we've decided to use a travel agency because it was for a special occasion and we used Simpson Travel, which was a referral from our parents. It was the best decision we've made! Our agent was Crystal, and we were taken care of extremely well. All of the location options she recommended to us made it hard to decide. Finally we decided on the resort, Royal in Cancun. It was AMAZING! The staff was magnificent and made us feel like royalty. We are looking forward to using Simpson Travel again for future travel.   ~ R & J Smith
Crystal, I wanted to write to let you know how much I appreciated the fantastic service you provided during the planning of my trip to Barbados. You made the planning effortless, for me, from beginning to end. You were very knowledgeable and organized making it a pleasure working with you. I have to say, you really went out of your way to ensure that all of the things I wanted to do, and/or attend were scheduled.  ~ Michelle B.
For further information please call Simpson Travel 302-378-0894 OR
email simpsontravel@yahoo.com.
Check out additional specials at