Free Yourself From Powerlessness! 4 Keys to Get You Back On Track
|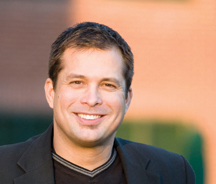 By Joe White
President and Founder of Get Life Coaching.
2008 Entrepreneurial Advocate of the Year
Pain is temporary… suffering is eternal. I understand both. I understand how crazy you can feel when you know what you should be doing, but emotionally you get pulled back to an undesirable behavior or emotion. I also understand the frustration that comes from being afraid of changing even when you know it will be better than where you are currently. Somewhere along the way we believe insight equals change, so we go into therapy to gain "insights" of what went wrong in our past that will explain the pain or suffering of today. Perhaps you take the more passive approach such as reading self-help book after self-help book, mixed with a bit of Dr. Phil. But then again, there still is no change or, at best, change comes at a crawl.
The truth is that every one of my clients comes to me for one reason – their blueprints for life don't match where they are currently living in their lives. This is pain. When they believe their life conditions can't match their blueprint, or they don't have the ability to make it match, that is suffering, or Learned Helplessness. This is quicksand – we sink quickly and become unable to get ourselves out. The three characteristics of Learned Helplessness are that you believe your situation is permanent, personal, and pervasive. All the positive thinking, insights, years in therapy, or self-help books do not create change itself.
In my eleven years of working with thousands of people from all walks of life, I have found four conditions that are common in lasting change. 1) The pain of remaining the same becomes greater than the pain or fear of the unknown. 2) The individual chooses to take responsibility for how they are feeling – they are not taking blame or exonerating someone else, but choosing to not feel the way they have been feeling. 3) A person draws a line in the sand and says: "This is it, no more, never again". 4) The individual is able to find meaning in the pain, and that meaning serves them at some level. At times, the change comes from being freed from a bad situation, and other times it is simply a realization that they never want to return again to where they were.
I remember a quote that helped me change my life 17 years ago: "Your past does not equal your future". In other words, what happened a moment ago, a day ago, a week ago, a year ago, does not determine what you will do at this moment. This moment, yes, this very moment you can make one decision that will affect your life forever… a new decision that will take your life in a whole new direction. Change is not easy, but staying stuck is a whole lot worse. Remember that pain is temporary. That includes heartbreak, grief, frustration, disappointment, and even the pain of changing. But, keep in mind that staying stuck is definitely suffering, and we already know what that feels like.
Until next time…
I wish you love and passion. Live Free!
Testimonial
Absolutely amazing! I have never experienced anything like this before. It is something that has changed me, my outlook and therefor my life! ~ Penny Marroni
Visit us on the web:
www.facebook.com/getlifecoaching
www.twitter.com/getlifecoaching