Spring Is In The Air – And Fun In The Sun Is Just Around The Corner
|
Here at Bare Essentials we know how difficult and frustrating shopping for swimwear can be.  This is why owner, Debbie Esslinger, expanded her store to include bra fitting swimwear over three years ago.  The year round swim boutique is the only independent retailer, in the area, to carry bra fitting swimwear in cup sizes D to K.  Though we are most widely known and recognized for personal bra fittings, carrying over 5,000 bras and 90 sizes, we found a demand to also accommodate our customers with swimwear that uplifts and brings as much satisfaction as a proper bra fitting does. Our swimwear lines include bikinis, tankinis, and one piece options to suit the vast needs and tastes of our customers.  The best part is that they are created by bra manufactures, have built in bra structure and are sized to fit just as a proper fitting bra does.  Along with our swimwear lines, we also carry a moderate selection of cover ups, in a variety of styles and colors, to complete all year round swimwear needs.  Most suits are sold as separates to achieve the best possible fit.  Do not wait, visit our swim shop early for the best selection in your size.
Bare Essentials has developed a loyal following of women who recognize the importance of a proper fitting bra and shape wear.  In a nutshell,size does matter.  Most department stores, as well as other widely known bra retailers, only carry cup sizes up to D or DD, limiting choices and leaving women misinformed and frustrated about bra selection and their bodies.  A "D" cup is no longer considered to be big and women have been ingrained with the idea that there is not a cup size larger than a D cup. This is a myth, and our purpose is to re-educate women with accurate facts about bras and their bodies.  We consider ourselves a type of Body Image Consultant and we are.  A chronic issue that we have found in our 14 years of doing business is that women with large cup sizes, larger than a D cup, buy bras with large band sizes to accommodate the need for extra cup space.  However, this is a major flaw because the band of the bra is where the support of the heavy breast tissue comes from.  If the band is not snug fitting, the breasts are not supported which leads to sagging, loss of natural breast shape and creates painful postural stress.  Also, when the breasts are lifted, it creates space through the waistline making it appear thinner and elongated.  What woman doesn't want that?  We care about how you look as much as you do.  Let us transform you and your wardrobe!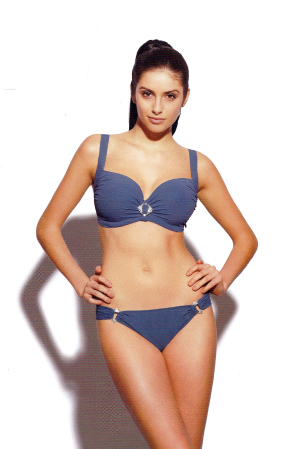 Along with our large selection of bras, we also carry the hottest shape wear compression products available and bustiers and strapless for brides and special occasions. Expanding from 850 square feet to 2,800 square feet is proof that we are doing something right for women just like you. We offer AA to M cup and 28 to 52 band size.  Only with this range of sizes can you receive a true bra fitting experience. Visit our shop and experience dedicated women serving women.
Visit my new website at www.mybareshop.com