Age Related Macular Degeneration Treatment Update
|

By Dr. Carolyn Glazer-Hockstein & Dr. Paula Ko
Age-related macular degeneration (AMD) is a disease that blurs your central vision. AMD affects the macula, the area of the eye that allows you to see fine details for activities such as driving, reading, and watching television. AMD is the leading cause of vision loss in Americans over the age of sixty five. There are two forms of AMD: wet or dry. Both wet and dry AMD may cause significant vision loss. Wet AMD tends to cause more rapid vision loss than dry AMD.
Results from the National Eye Institute's Age Related Eye Disease Study (AREDS) demonstrate that diet and high dose vitamin/antioxidants may help prevent some people from progressing to advanced AMD. Foods high in lutein, zeaxanthin, and omega-3-fatty acids protect against AMD. Green, leafy vegetables and colorful fruits contain high amounts of lutein/zeaxanthin. Examples of foods high in omega-3-fatty acids include salmon, tuna, sardines, walnuts, and broccoli.
Patients with wet AMD now benefit from intraocular injections of Lucentis® or Avastin®. These are new medications which are very successful at stabilizing vision, and in some cases, can improve sight. Lucentis and Avastin target a specific chemical in your body that is critical in causing abnormal blood vessels to grow under the macula in AMD. That chemical is called vascular endothelial growth factor (VEGF). Anti-VEGF drugs block the trouble causing VEGF, reducing the growth of abnormal blood vessels and slowing their leakage and damage.

Dr. Carolyn Glazer-Hockstein and Dr. Paula Ko are retina specialists at Eye Physicians and Surgeons who are committed to helping patients with AMD and other retinal diseases. If you would like to learn more about AMD or to schedule an appointment call (302) 652-3353.

Dr. Glazer-Hockstein graduated Cum Laude from Jefferson Medical College. She was a member of the Hobart Armory Hare Honor Medical Society and was elected to the Alpha Omeg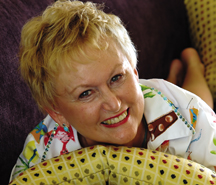 a Alpha Honor Society. She also received the Carol R. Mullen prize in ophthalmology. She completed her residency at the Scheie Eye Institute, University of Pennsylvania. During that time she was elected Chief Resident. After residency, Dr. Glazer-Hockstein completed a two year medical retina fellowship at the Scheie. Dr. Glazer-Hockstein has published multiple articles in peer-review journals and has lectured on a variety of retinal disease subjects. Eye Institute, University  of Pennsylvania. Her specialization includes but is not limited to: macular degeneration, retinal vascular disease,  and diabetic retinopathy.
Dr. Ko is at the forefront of ophthalmic technology, and utilizes the most advanced procedures, including laser treatment and intraocular injections, in the care of
her patients.

Paula C. Ko, MD is with Eye Physicians & Surgeons, P.A., 1207 North Scott Street, Wilmington, DE 19806. Dr. Ko graduated with honors from the Ohio State University College of Engineering in 1984. Dr. Ko received her M.D. degree from the Ohio State University College of Medicine in 1989, again with honors. Following her residency in Ophthalmology at Temple, Dr. Ko served a prestigious fellowship at Georgetown University in diseases of the retina and vitreous, and is Certified by the American Board of Ophthalmology.
Dr. Ko has an area of special expertise in retinal problems, especially diabetic eye disease, macular degeneration, retinal detachment, and CMV retinitis. Dr. Ko has lectured extensively, and has published many papers on these topics. Dr. Ko is active in resident training, and is on staff at the University of MD and Temple University, as well as at the Medical Center of DE.