Light Up the Season All On Your Own – No light strings required.
|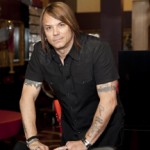 By: J. Christian of J. Christian Studio in Hockessin, DE
Industry analysts are predicting a good — but not great — 2011 holiday shopping season for retailers.  Consumers are expected to be more conservative and controlled.  Fewer are spending time on vacation and more are devoting time to family and friends.
Making sure you look your best this holiday season is easier when you plan ahead. We've scoured the web and beauty magazines for the best and brightest holiday tips and added a few of our own so you can be picture-perfect all season long without breaking the budget!
Holiday Hair Trends
This holiday season you might say that old fashioned glitter and glamour is back.
Upswept Hair and Loose Waves. A casual upswept do adds a bit of sophistication and romance to your holiday look.  This hairstyle can be worn with any kind of hair ornament and tends to look best with some curls.
Up the glam with an up-do. There is a huge variety of holiday updos to choose from that can make your hair look elegant. Updos are not limited to women with long hair.  It's possible to put just about anyone's hair in an updo – no matter the length, texture, or type of hair.  When creating your upstyle take into consideration the shape of your face and your outfit.  When in doubt, consult your stylist.

Plan Ahead for Lovely Locks.
If your calendar is booking up quickly with back-to-back holiday festivities and events, you'll need to pencil in some 'me time' to make sure your hair and nails are ready for picture sessions and special occasion dress-up nights!
Holiday Glow Highlights and Color.  One way to keep your color budget to a minimum is to schedule a HAIRLINE TOUCHUP versus a single process color.  Want highlights, schedule with your stylist for a few foils versus a full or semi partial foiling.  A few foils, placed appropriately can add depth and richness to your hair color.
Party Proof Your Curls. Even the bounciest ringlets can drag on the dance floor.  Schedule a blow-out with your stylist versus a haircut and style.  The stylist will properly prep your curls with professional products to add much needed longevity to your look as you dance the night away.

Decorate Your 'Do
Our passion for precious metals — real or faux — has gone to our head. Give your hairdo some holiday sparkle and glamour with one of these fun hair accessories.
Hair Glitter or Shimmer Spray. A few sprays of sparkly hair glitter or shimmer spray will instantly add a bit of holiday fun to your look.  Use sparingly, you don't want to look like a Christmas tree.
Black Velvet Headband. The black velvet headband creates a classic holiday look that looks equally well on long or short hair.  Width is an important consideration, if your hair is a cropped style close to your head; opt for a thin black headband.
Sparkle Bobby Pins and Hair Jewels. Hair jewels are wonderful little hair accessories that look beautiful on both short and long hair.  After washing and drying your hair, stick several jewels throughout your style to pick up the light and add a bit of holiday glamour to your look.
Hottest Make-Up Trends this Holiday Season
Two looks are classic and hot right now: The smokey, shimmery eye paired with light lips and the deep red lips balanced with a light eye.  Don't overload on the shimmer and don't forget the golden rule: Never play up BOTH the eyes and the mouth.
Sparkling Eyes. Forget twinkle toes.  Make your eyes the center of attention with a little sparkle.  Achieve the look with glitter eye shadow and eye liner, optional: apply jeweled false eyelashes.
Glossy Lips. Plain lips become beautiful lips that look moist and dreamy with the right shade and lots of shine.  Achieve the look with shiny lipstick in shades of pink or plum, or use a non-color gloss over a subtle shade of lipstick.
All That Glitters Is Golden for Nails this Season
Splurge on at least one spa manicure or pedicure (or both) this season so that you can look your best over the holidays.  Two of the hottest trends:
Glitter Nails. Glitter adds the perfect finishing touch to beautifully manicured hands.  Achieve the look with tinted or clear glitter nail polish.  Or, add jeweled rhinestones to polished nails.
Play Up Your Nails. Glitter not your thing?  For an exciting evening look, try dark polish with a silver metallic stripe up the middle.
J. Christian is an award-winning, International Platform Artist and Master Educator for Sexy Hair, Los Angeles.  Together with his wife Marcy he owns and operates J. Christian Studio in Hockessin, DE.  He travels the world and regularly teaches at the Institute of Courage, a hair academy in California founded by Michael O'Rourke.  Owner of Michael O'Rourke Hair.  The salon, accredited by the Better Business Bureau, is the proud recipient of the Better Business Bureau 2010 Torch Award for Market Place Ethics and recent recipient of First State Favorite Salon for Women in New Castle County.