Healthy Holidays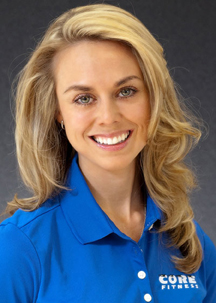 By: Arianne Missimer
DPT, RD, LDN, CSCS,
T.P.I Certified Golf Fitness Instructor,
T.P.I Golf Medical Professional, Functional Movement Specialist,
Owner of CORE Fitness
The holidays are almost here. A time for social gatherings with family and friends. A time when some people gain a few extra pounds or perhaps become anxious and stressed about all of the temptation. As with anything in life, we are always faced with choices. In order to make the best ones, we need to know the pros and cons of each and be prepared with the appropriate information.
In order to maintain energy and reduce stress levels, it is essential that we eat an appropriate balance of nutrients, indulge a little but eat in moderation, and maintain a varied diet.
Tips on healthy eating during the holiday season:
1. Eat breakfast within a half-hour of waking up. Breakfast should include complex carbohydrates and lean protein, balanced with fruit or veggies. Try whole grain cereal, low-fat or fat-free milk, with fresh fruit or an egg white omelet sprinkled with a pinch of feta cheese and spinach with a slice of whole wheat toast for two power-packed breakfasts.
2. Eat most of your calories during the day when you are typically expending the most calories and go lighter in the evening. But, remember, calories are calories. It doesn't matter where they come from; you can still gain weight if you are eating more than you are expending.
3. Eat a small snack or meal every three to four hours. Carbohydrates are quickly metabolized; proteins and fats take longer to digest and absorb. Aim to eat a small amount of protein and healthy carbohydrate in each meal or snack to improve the satiety of the meal. Try to include a variety of fruits and vegetables. Maintain your normal eating schedule regardless
of celebrations.
4. Make a goal to maintain your weight, not lose over the holidays. You can enjoy the festivities without setting unrealistic expectations. Don't diet. If you go "on" a diet, you have to go "off" a diet. Instead, aim for a healthy, balanced meal plan.
5. Exercise. Exercise. Exercise. Most people have a little extra time available during the holiday season when they are not at work. Take this opportunity to use the stairs instead of the elevator, park in the farthest spot while shopping, and try to maintain your normal exercise regime. Interval training is a great way to boost your metabolism.
Try running (or another high intensity exercise) for one minute, followed by walking or another low intensity exercise for one minute. Repeat.
6. Eat a small snack before you attend a party or event. Don't starve yourself all day in anticipation or "save up" because you will feel famished and then overindulge.
7. Moderate alcohol intake. Remember that calories are calories. Many alcoholic beverages are quite high in calories. A White Russian has three times the number of calories as a light beer, and one cup of egg nog with rum can be over 300 calories. Try to opt for lower-calorie beers and wines when available.
8.  Don't weaken under pressure. Friends and family may try to get you to yield to temptation or overindulge. Stay focused and keep your eye on the prize, a healthy lifestyle.
9.   Limit sugary foods. As we know, the holidays are filled with these. Consuming too many of them will spike your blood sugar. The physiological response to this is hunger and craving for more sugary foods in order to maintain balance. This, in turn, becomes a vicious cycle.
10. Aim for healthy cooking. Grill, bake, poach, roast, or broil instead of frying. Limit sauces and use herbs and spices for nutrient enrichment.
Holidays will always be filled with food, drink, family, friends, and festivities. But, in order to have the energy to enjoy yourself, aim to be healthy through the holidays.
About CORE Fitness
We are committed to not only enhancing your performance and preventing injury but also improving your life. If you want to be pain-free, strong, and healthy, our team of performance specialists, using our scientific methodology of training beginning with our thorough assessment designed to identify faulty movement patterns, asymmetries, and imbalances, will help you.
Proper nutrition, corrective exercise, regeneration, and recovery, combined with our pyramid of stabilization, strength, and power/reactive training (supporting a model of foundation, functional movement, and skill) encompass our proven system. To ensure sustainable excellence, the CORE team of specialists will analyze and assess your individual needs, rehabilitate and restore efficient movement patterns, train and condition you to meet the demands of your lifestyle, and ultimately maximize your performance. CORE Fitness is a revolutionary approach to fitness training that supports how you move, work, and play every day. It is an intelligent training system that corrects imbalances and strengthens and stabilizes weak muscles from the inside out. Lastly, we strongly believe in a mind-body approach because presence and awareness in your training are vital to moving with subtlety and ease, creating more efficient movement, for greater motor control. Train smarter, perform better.
Arianne Missimer is a Registered Dietitian, a Certified Strength and Conditioning Specialist, and is currently pursuing her Doctorate of Physical Therapy at Neumann University.
She is also the owner of CORE Fitness, an exclusive fitness center located in North Wilmington. CORE Fitness specializes in one-on-one personal training for performance enhancement and injury prevention. This training method utilizes functional movement patterns for a complete fitness program, addressing movement efficiency, balance, flexibility, strength, coordination, speed, power, and endurance.  Arianne trains a diverse group of clientele, including recreational and competitive athletes at all levels, to improve their game through proper core conditioning and functional training. With eleven years of experience in the field, she is committed to restoring optimal health and fitness to people of all ages with acute and chronic conditions, functional limitations, and disabilities.