Women in Profile – New Castle – December 2009/January 2010
8 December 2009
No Comment
View all Articles by: Pamela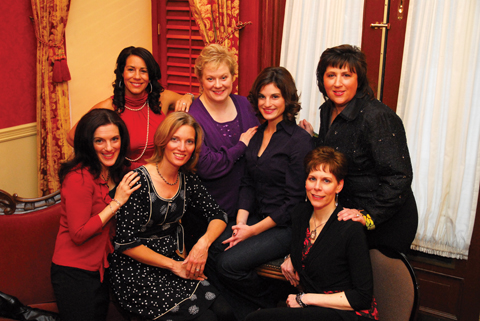 Every week we work with outstanding professional women, and with this issue we have decided to do our part in spotlighting some of these fascinating women. On the front cover are just a few of the many women that we have met, and on the inside you will find short profiles on each of these women. In the future months we will be doing more profiling of women from different walks of life.
---
Elaine Kempski
Founder, Certified Coach and Inspirational Speaker/Writer
Inner Journey Coaching
302-228-8855
Elaine Kempski is Founder of Inner Journey Coaching (IJC), an organization dedicated to helping each woman: KNOW herself deeply, VALUE herself highly, LIVE her life freely and REALIZE her dreams! It is the most precious gift a woman can give herself – Elaine welcomes all women to experience through her Powerful Keynotes, Public/Group Events, Transformational Leadership Programs ,and Business/Life Coaching Services.
As a speaker, writer ,and coach, Elaine inspires women to live boldly from the tremendous power within. No stranger to adversity, she grew up in a small working class family that faced significant emotional and financial challenges. As a young child, she learned the importance of self-reliance and compassion – two qualities that would profoundly influence her life's journey. From difficult beginnings, she went on to have a successful 25-year career focused on personal and organizational transformation.
Through a determined spirit, she completed both her undergraduate and graduate degrees at night while
working full-time. Finally, Elaine's deep compassion for others led to her volunteering as a support group teacher in DE and PA for 12 years.
Elaine's unwavering passion for helping women empower themselves is reflected in her dynamic presence, unique wisdom and vibrant spirit. She knows from personal experience that: "The journey forward begins inward!" ™ "For each time women embrace the unlimited power within, we transform the heights to which we live, love, and make a difference!"
Start your journey today by visiting us at: www.InnerJourneyCoaching.com
---

Harriet Weiss
Owner,
Huntington Learning Center
Talleyville Shopping Center
3615 Silverside Road, Wilmington
1-800 CAN LEARN or 1-800 EXAM PREP
www.wilmingtonde.huntingtonlearning.com
302-655-6003
Harriet Weiss owns and operates the Huntington Learning Center located in Wilmington. Huntington provides instruction in reading, writing, spelling, phonics, mathematics, and study skills, as well as SAT, ACT, and High School Entrance Exam preparation. Huntington helps students of all ages reach their full
academic potential.
Beginning at an early age, Harriet and her parents placed a high level of importance on the value of education. A recipient of a Silver Medal in The National Westinghouse Math and Science Fair and graduate from Cornell University with a Bachelor of Computer Engineering, Harriet is a true believer in the importance of a strong educational foundation. She credits much of the success in her 20 year corporate career to the fundamental skills learned and developed at an early age.
Harriet and her husband, Jay, feel that education is of utmost importance. They have had their children involved in supplemental learning – that is, in addition to school – since they could read. Harriet states, "As a child and a teen, I always had a tutor, an academic coach to help me be the best that I could be. This is exactly what we do at Huntington everyday."
For over 7 years, Harriet has been involved with Huntington Learning Centers in Pennsylvania and Delaware and gains much personal satisfaction with the knowledge that her center is helping children to achieve their academic potential. Harriet welcomes all parents to the center for a free consultation. There is always something new and exciting to learn at Huntington!
---

Kelley Lester-Garrett
MSN, FNP Nurse Practitioner
Family Ear, Nose and Throat Physicians, PA
302-998-0300
Kelley Lester-Garrett grew up in the suburbs of Portland, Oregon. She obtained her bachelor's degree in nursing at Oregon Health Sciences University. Kelley's lifelong dream was to live on the East Coast, so she moved to Delaware and began her nursing career at Hahnemann University Hospital in Philadelphia. Two years in the Neuro-Trauma ICU at the Hospital of the University of Pennsylvania enhanced her knowledge of neurology and head trauma. After working several years as a school nurse, Kelley returned to graduate school at the University of Delaware, where she obtained her Family Nurse Practitioner and master's degree in nursing.
She partnered with Dr. Michael Teixido at Family ENT Physicians to provide comprehensive and compassionate care to headache patients in 2008. She is very passionate about her work because there is such a large population of patients with headaches who are not being treated. Kelley herself is a migraine sufferer, and has a true understanding of how debilitating chronic headaches can be for her patients. She helps patients take control of their health by forming a partnership with them.
Kelley enjoys spending time with her husband, Joel, their 4 year-old son, Ben, and family and friends. She also shares her home with two cats, Tabitha and Samantha. Kelley is active in her church, and enjoys trivia, history, and scrapbooking.
---
Michele M. Scott
President, Designer Consigner, Inc.
Michele Scott is a native Philadelphian who migrated to Delaware in 1985. She graduated from Wesley College Summa Cum Laude with her Business degree while working fulltime for Siemens Medical Solutions in Malvern, PA as a marketing manager. After being downsized from Siemens in August of 2008, Michele wasted no time in pursuing her dream of opening an upscale resale boutique. She wrote her business plan and began marketing in October of 08, and opened Designer Consigner in January of 2009.
Michele shopped resale boutiques all her life, and her mother, Vicki Montague, who is also her store manager and mother of 4 (3 of whom are daughters), took Michele and her sisters to resale boutiques on the Main Line when they were growing up in Philadelphia, so her love and passion for designer clothing started early in her teen years. Today, Designer Consigner has over 500 consigners from all over the tri states and a mailing list of well over 1700 customers. After only her 5th month in business – was voted Delaware Today Magazine's "Best of Delaware" Award for Best Bargain Shopping Upstate. Shoppers are likely to find items from name brands from Talbot's and Ann Taylor to Chanel and Gucci and everything in between. "Quality is number one, and the prices just can't be beat," says long time customer, Diane Flemming of Hockessin.
Designer Consigner is located at 7209 Lancaster Pike in Hockessin, Delaware 302.239.4034 The store hours are: Tuesday thru Saturday 10 AM – 6 PM, Wednesday 10 AM – 8 PM and Sundays 11 AM – 3 PM. Consignments are taken by appointment only.
---

Pamelyn Manocchio
The Grand Opera House
302-658-7897
Pamelyn Manocchio was born and raised in Long Island, NY. She attended the Hartt School of Music at the University of Hartford, and began her career in fundraising at the Hartford Symphony Orchestra. In 1996, Pam returned to New York to work for the Alvin Ailey Dance Theater before moving to Wilmington in 2000 to join the prestigious Curtis Institute of Music in Philadelphia. Pam came to The Grand Opera House in 2006 as Director of Development and has helped strengthen the organization by raising awareness of the need for support, especially among audiences, expanded its donor base and increased giving from area businesses.
Currently serving as The Grand's Director of Community Engagement, Pam is inspired and fulfilled by the joy the arts bring to people, especially the way in which it enriches the lives of young children. In her new role creating educational programs through the Arts Academy and outreach opportunities for The Grand, she hopes to leave a positive, lifelong impact on the local community.
Passionate for the arts both on and off the job, Pam enjoys working with her husband, Steve, attending concerts, supporting local theater and artists, and gathering with friends and family. She also serves her local church as director of the hand bell choir. They have two young children, Drew and Josie, and reside in Wilmington, Delaware.
---
Alexis Frederick
Joseph Frederick & Sons
302 994 5786
www.jfrederickandsons.com
Only 3 percent of family businesses survive into the fourth generation, but Alexis Frederick is determined that her family's business, Joseph Frederick & Sons, will be part of that elite group. Born and raised in Wilmington, Alexis is the great granddaughter of Joseph Frederick, who launched the plumbing, heating, cooling, and electrical company in 1947 with a single truck. Alexis's father, Brian, and uncle, Rob, have grown the business into a multimillion-dollar company and, this year, added a bathroom and kitchen remodeling division.
Alexis, a graduate of Wilmington Christian High School and Goldey-Beacom College, aspires to one day become the owner and president of Joseph Frederick & Sons.
She started working for the family business right out of high school, gradually taking on more and more responsibilities. Today, Alexis works in the accounting department, coordinates the company's maintenance program and Customer Assurance Plan, and helps with customer service.
In addition to the typical challenges of leading a family business, 24-yearold Alexis also will grapple with being a young woman in the male-dominated business of plumbing and HVAC.
"I work alongside people I've grown up with for the past 24 years," Alexis said. "As I continue to grow, I learn more and more about the history and future of the company. I have amazing people as my mentors and supporters through this journey that I've been chosen to pursue."
As she learns different aspects of the business, Alexis keeps in mind her ultimate goal of maintaining Joseph Frederick & Sons' reputation of providing top-quality work and excellent customer service.
"Over the past 62 years, my dad, my uncle, my grandfather, and my greatgrandfather have made Joseph Frederick & Sons synonymous with 'good work' in Delaware," Alexis said. "To keep our company successful, I'm going to put all of my energy into maintaining our reputation."
---
Kiera Newnam
Total Fusion Media
kiera@totalfusionmedia.com
Kiera Newnam has been a resident of Delaware for nearly 18 years. After spending many years as a regional trainer with a major retail corporation, Kiera took a step out into the world of entrepreneurship. In 2007, Kiera became a partner in a media company and introduced the concept of indoor digital marketing to New Castle County.
As a Key Partner with Total Fusion Media, Kiera owns a network of indoor digital billboards that are located in popular gyms, restaurants, and family fun centers throughout the county. These indoor billboards are actually large flat screen TVs that are placed in high traffic locations with high visibility and an approximate wait time of 10-15 minutes. Continuous loops of professionally designed advertisements run on these screens during the time that the location is open for business. Each advertisement is viewed approximately 2500 times a month per location. This type of advertising allows local businesses the opportunity to build brand recognition and target a specific market. It is also extremely affordable with many options and packages to fit a wide range of budgets.
Kiera enjoys the opportunity to work with a wide variety of businesses throughout New Castle County. She stresses the importance in meeting with each and every client to discuss their individual needs and desires and match them up with the most effective marketing display. She also takes great pride in the relationships that she builds with both the host locations of the screens as well as the advertisers. She finds it very rewarding to contribute to the growth and success of a business through the services provided by Total Fusion Media.
Kiera currently resides in Pike Creek with her husband and four young children. She is very active with her children's school and as a member of her church. While life is mostly a busy blur, she would not have it any other way and is very grateful for her family and friends.
---
Photos Provided By:
Royal Photography
Royal Photography's owner, Roy McDowell, brings a wealth of experience, both creative and business, along with an unmatched ability to put people at ease, to every occasion he photographs.
Over the past 18 years, Roy McDowell has captured "that" moment for more than 300 brides and grooms and preserved high school memories too numerous to count. Such exposure has led Roy to become one of the most recognizable photographers in Delaware. He creates a lasting impression, not only of an event, but of himself. The pride, precision, and passion he exudes has compelled brides-to-be to track down, "the photographer who took their senior portrait years before".
Roy exhibits this same commitment and customer service when working with the many schools and businesses with whom he's managed contracts. "The consumer drives the product I provide; not the
other way around".
With the help and support of family, friends, and business associates, Roy McDowell strives to achieve his goal of providing an unforgettable experience with superior photographs, exceptional customer focus, and lasting relationships.
Royal Photography
Phone: 302-438-1308
E-mail: royalphotogde@aol.com
---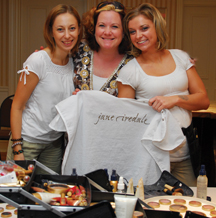 Make-up provided by Covet Spa
Greenville's only exclusive day spa, is the New Castle County Women's Journal "Spa of Choice" for their photograph's make-up applications. Covet Spa's owner Devon Tucker has over 17 years experience in the esthetics and nail care industries, and she holds a Masters certification in esthetics. She created and marketed a private-label skin care line and has created looks for Main Line Today and Delaware Today. Devon wasalso a national trainer for a cosmetic company and is trained
in every cosmetic line found in high-end department stores.
Along with Devon are two of Covet Spa's make up artists, Flora Sutalo and Tara Cirillo, whose make up application techniques are featured. Flora Sutalo is an esthetician, make-up artist, and nail technician and was also the featured make-up artist for the November NCCWJ photo shoot. New to Covet Spa is Tara Cirillo, a massage therapist, make up artist, and apprenticing nail technician. Covet Spa is open 7 days a week; visit www.covetspa.com or call 302.888.0700 to learn about their services.
---

Hair styling was provided compliments of J. Christian Studio, where hair and art perform.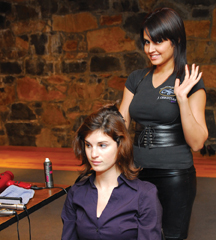 J. Christian Studio is located at 7465 Lancaster Pike, Hockessin, DE. As an International Platform Artist and Master Educator for Sexy Hair Concepts, J. Christian travels here and abroad teaching other Stylists about hair fashion. For more information or to schedule an appointment, contact J. Christian Studio at 302-235-2306.