Summer Sipping
The heat of the summer sun is upon us, which probably means that you are reaching for a beverage more often these days. It's very important to properly hydrate during the hot and humid summer months, especially if you're exercising or working out in the yard. The trick is to find a beverage that hydrates without wrecking all of your hard work to achieve a summer-ready figure.
The average American gets a fifth of their daily calories from the beverages they consume. Choosing the right drinks can tweak your metabolism, reduce your total calorie count and help curb your appetite. Check below for some information on which drinks are weight loss helpers and which ones can really hurt.
Helpful Hydration
Replacing carbonated soft drinks with water can cut hundreds of calories out of your day and that's just the start. Drinking two glasses of water before a meal can encourage your stomach to feel full faster, making you more likely to eat less. Research also suggests that drinking plenty of water may have a positive effect on your metabolism.  If regular water is too blah for you, consider mixing it up a bit with flavored seltzer water. Its calorie free, fizzy and refreshing. Be careful when choosing the enhanced waters that have become so popular. Some of these waters may also contain sweeteners, which means more calories, so read the label before deciding on a brand. The sugar free sweetened water is fine on occasion, but studies have shown that artificial sweeteners actually stimulate your appetite, and your sweet tooth, thus causing you to consume more calories in the long run.
Vegetable juice is a great way to get nutrition and quench your thirst and it has about half the calories of fruit juice.  For example, a 12-ounce serving of tomato juice has about 80 calories, compared to 160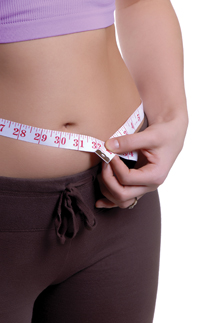 calories for orange juice.  Drinking vegetable juice with pulp will also give you added fiber and can help you better control your hunger.
Coffee is a better choice than soda or energy drinks when you're craving a shot of caffeine. Black coffee is calorie-free and rich in antioxidants. Studies have shown that consuming about 3 to 4 cups of coffee a day may improve your mood, concentration, and reduce the risk of type 2 diabetes and some types of cancer.
Unsweetened green tea is another excellent choice for a caffeine fix. Not only is it calorie-free, research suggests that green tea extract may stimulate weight loss through phytochemicals, which are plant-based compounds that cause the body to melt fat and burn more calories. The benefits appear to be temporary, lasting only a few hours, so it may be helpful to drink green tea a few times a day.
Depriving the body of calcium has been shown to trigger an increase in the production of fat cells. To get the benefits of calcium without consuming extra fat, stick to skim or low-fat milk.
Hurtful Hydration
Stay away from soda! Every time you chug a bottle of soda you're consuming hundreds of empty calories. Carbonated soft drinks are the single biggest source of calories in the American diet. Diet sodas aren't much better, as they contain large amounts of potentially harmful artificial sweeteners, and actually stimulate
your appetite.
Be careful, fruit juices can have as many calories as soda! Look for 100% fruit juice with no added sweeteners or add a little fruit juice to a full glass of water to get the taste but cut calories.
Restaurant smoothies can contain ice cream, honey, or other sweeteners, driving the calorie count sky-high. If you are craving a smoothie, make your own by blending skim milk, bananas, strawberries, and blueberries to create a delicious mix of disease-fighting vitamins and minerals.
Sports and energy drinks are packed with calories, just like soda. They may contain more nutrients, but you can find the same vitamins and minerals in low-calorie foods. If you are serious about losing weight, stay hydrated with water rather than sports drinks.
Specialty coffees can contain up to 570 calories per cup! Heavy cream, flavored syrups, and whipped cream can turn that innocent mug of coffee into a minefield of sugar and fat.  If you don't like your coffee black, add a little skim milk or Splenda to keep the calorie count low.
Wine coolers, cocktails and beer can make the party fun, but they are heavy on the calories. Try low-calorie alternatives like a wine spritzer, a light beer or a cocktail of rum or vodka with diet soda. Of course alcohol should be consumed only in moderation. Keep the libations down to no more than 2 servings in a given day.
There is no magical formula for weight loss — but there is a medical one. The Center for Medical Weight Loss® has a physician run center in Oxford, PA. Meet with Linda G. Everett, MD to find out more about products and techniques available only to medical doctors, plus program advantages to helping patients lose weight and keep it off. Call 610-467-0446 for more information.
Dr. Linda G. Everett received her undergraduate degree in Biology at Johns Hopkins University, and her medical degree at Jefferson Medical College. She also received a Masters in Health Administration from Widener University. She completed her residency in Internal Medicine at Christiana Hospital in Newark, DE. Dr. Everett is board certified in Internal Medicine, and has received extensive training in bariatrics. She is a member of the American College of Physicians as well as the American Society of Bariatric Physicians.
After practicing Internal Medicine for 5 years, Dr. Everett decided to open the Center for Medical Weight Loss. At The Center, she offers rapid, long-lasting weight loss even for the most difficult cases. Unlike commercial programs, Dr. Everett is able to use products and techniques only available to medical doctors. These include FDA approved prescription appetite suppressants, medically prescribed low calorie diets, and metabolic supporting injections.
Since insurance coverage for the treatment of obesity is variable, insurance is not accepted for care at The Center, but she does provide the necessary information so that eligible patients can submit their own claims for reimbursement. The Center for Medical Weight Loss is located at 2217 Baltimore Pike, Oxford, PA. For more information or to schedule an appointment, call 610-467-0446.